Assistant professor of nursing at UNB wins award for work in mental health research
Author: UNB Newsroom
Posted on Jan 27, 2023
Category: UNB Fredericton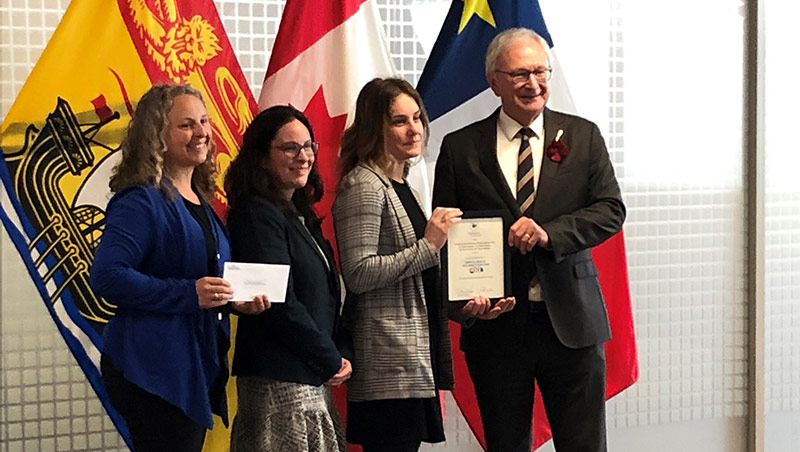 An assistant professor of nursing at the University of New Brunswick (UNB) has won the Award for Innovation in Mental Health and Addictions Care in New Brunswick. Premier Blaine Higgs presented the $5,000 award on behalf of the Council of the Federation on Oct. 18 to Pam Durepos, co-lead investigator, Chandra MacBean, executive director of the Alzheimer Society of New Brunswick (ASNB) and Nicole Cormier, licensed counselling therapist.
Commitment to discovery and innovation
Durepos is working with local partners to investigate the benefits of the innovative and novel program, Acceptance and Commitment Therapy (ACT) Through Tele-Counselling for Family Caregivers in New Brunswick, developed by Cormier. This program uses a particular type of psychotherapy that may have advantages over traditional cognitive behavioural therapy (CBT) to help New Brunswick caregivers of people experiencing dementia.
Through her research, she recruited 30 family caregivers of persons living with dementia as a part of a randomized control trial (RCT). She and her partners examined prevalent health concerns, such as:
Depression;
Anxiety;
Social isolation; and
Caregiver burden
"Many caregivers experience barriers, such as cost, service location and competing demands, making it impossible to access psychotherapy," she said. "This makes evaluating the ACT Tele-Counselling pilot program so important."
Durepos' study was also the winner of the 2021-22 Mental Health Research Canada-New Brunswick Health Research Foundation (MHRC-NBHRF) Mental Health Impact Grant valued at $50,000 (2022-2023) and an NBHRF Summer Studentship valued at $8,000.
The Award for Innovation in Mental Health and Addictions Care was designed to advance innovative initiatives that positively affect mental health and addictions care. It is presented in each province and territory for innovative initiatives that positively impact mental health and addictions care, the award recognizes individuals and organizations excelling in the field.
Learn more about the other ways that UNB's nursing faculty members are committed to discovery and innovation.