Funding for advocacy intervention program at UNB announced to support Maritime women
Author: UNB Newsroom
Posted on Jan 26, 2023
Category: UNB Fredericton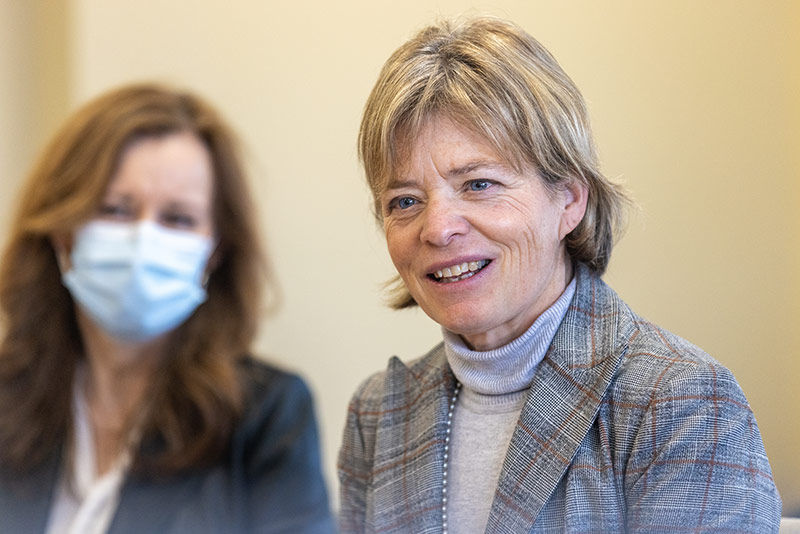 On Jan. 19, Élisabeth Brière, Parliamentary Secretary to the Minister of Mental Health and Addictions and Associate Minister of Health, visited the University of New Brunswick (UNB) to learn about the innovative and emerging research taking place at its campuses.
Brière joined researchers at the Muriel McQueen Fergusson Centre for Family Violence Research (MMFC) to announce $598,272 in funding to adapt and test the effectiveness of an advocacy intervention program to support women from the Maritime Provinces in midlife and older who experience intimate partner violence.
Jenica Atwin, Member of Parliament for Fredericton, emceed the announcement, which also included the co-principal investigators of the study, Dr. Lori Weeks, a professor at the School of Nursing at Dalhousie University and academic chair of MMFC's Abuse and Neglect of Older Adults Research Team and Dr. Cathy Holtmann, director of the MMFC. Dr. David MaGee, vice-president research at UNB, also attended the event.
Brière thanked representatives from UNB for welcoming her and her team so warmly.
"It is a privilege to be here in a place that inspires innovative problem-solving and positive change across communities," she said, adding there is no one-size-fits-all solution to violence, but we can ensure that the right programs are available to those who need them most.
"I'm confident that the program funded by today's announcement is one of these programs and will support women in midlife and older right here in Atlantic Canada."
Magee noted that as UNB moves toward 2030, research plays an ever-increasing role in its efforts to increase its positive impact, influence and relevance.
"Underlying those goals is a more important truth—improving our positive relevance and impact enables and reflects the critical importance of research in making our world safer, healthier and better," he said.
Holtmann said she is grateful the funding.
"The study will investigate gaps, challenges and the importance of having a gendered-community response to intervene and prevent violence against older women," she said. "This demonstrates the confidence in the research team's ability to conduct applied action-oriented research that is poised to contribute positive change in our communities throughout the Maritimes."
Earlier that day, Brière participated in a roundtable discussion with the nursing faculty. Dr. Lorna Butler, dean of UNB's nursing faculty on the Fredericton campus, introduced Brière, who was joined Atwin and Carole Beauvais, Health Canada's director of mental health policy, mental health division, health programs and strategic initiatives.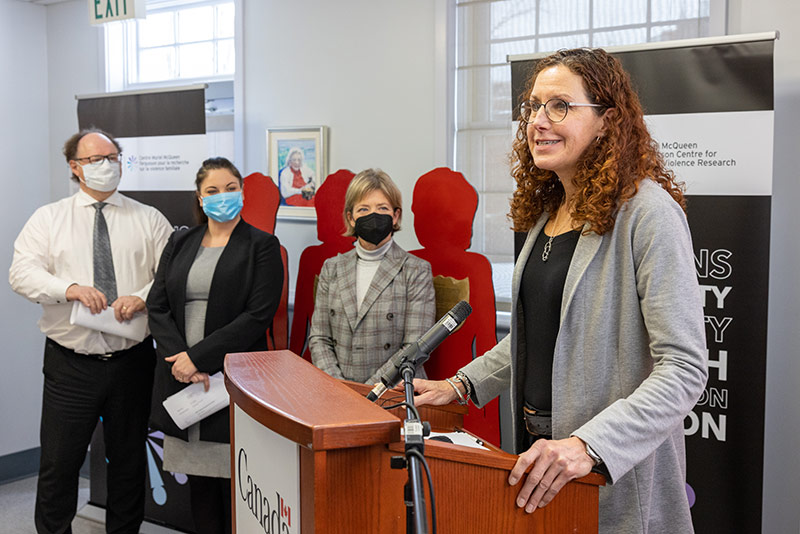 Nearly 40 people attended the roundtable, including faculty, staff and students studying and participating in research areas such as violence and trauma-informed care, suicidality and women incarcerated.
Butler spoke about the common interests between educators, students and policymakers, specifically their concern about the mental health of Canadians.
"Our students are in mental health rotation as we speak," she said, noting students were in community placements at various locations including the Inpatient Addiction Unit at the Victoria Health Centre, the healing house on Saint Mary's First Nation and Oak Treatment Centre.
Given students' positioning in this realm, Butler asked how they can interact with policymakers to influence change. Atwin said their door is always open and that it is important to know what is happening on the ground.
The panelists also discussed the importance of self-care, which includes mindfulness, reflection, safe spaces and advocacy. Brière stressed the government's commitment to addressing mental health issues for staff and how these issues were exacerbated by Covid. Atwin explained policymakers must collaborate with partners and clinicians to work on solutions to improve conditions for all.