Driving innovation to its fullest potential
Author: UNB Newsroom
Posted on Nov 3, 2022
Category: UNB Fredericton , UNB Saint John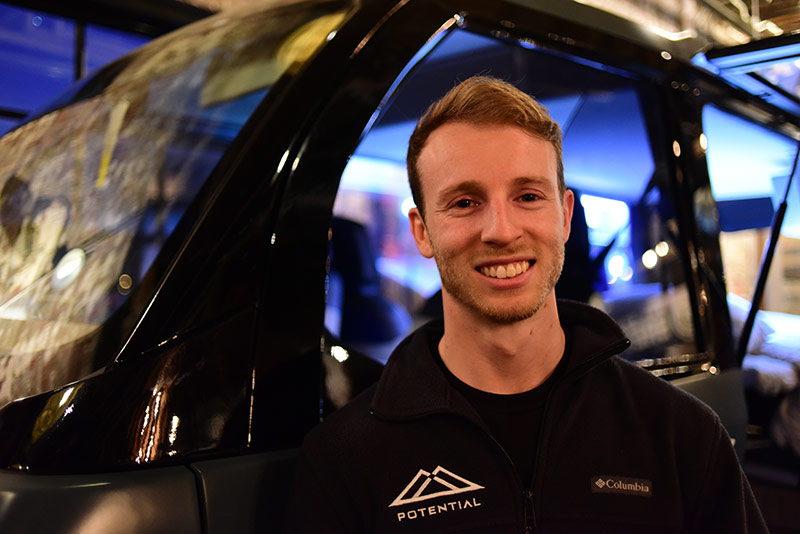 Collaborations between academia, government and industry are helping build the workforce of the future across New Brunswick.
One such collaboration is Potential Motors, a software company that uses artificial intelligence to boost vehicle safety and performance. Potential Motors was founded in 2018 by University of New Brunswick (UNB) students Sam Poirier (BScME'19, M-TME'19), Isaac Barkhouse (BScEE'19, M-TME'19), Nick Dowling (BScME'18, D-TIME'18) and Michael Barnhill (BScME'18).
CEO Sam Poirier, an innovator and changemaker who is making global impacts within the automotive industry, believes he would not be where he is without the support and experience provided by the Technology, Management and Entrepreneurship (TME) program at UNB's faculty of engineering.
While studying in the TME program, Poirier and his colleagues created a method to convert gas-powered vehicles to electric vehicles.
"Not only did our time at TME provide us with the technical skills and the connections, but, most importantly, it gave us the confidence to go out and start our business."
UNB's TME program combines technological thinking with practical business skills to promote the entrepreneurial mindset needed to succeed. The project-based structure of the TME program is highly focused on experiential learning, which allows students to immerse themselves in cultivating innovative ideas, design thinking, creative agility and enterprise innovation.
At TME, Poirier found a group of like-minded individuals who were as passionate about the same things as he was. "Sure, you might get really good at programming or at design, but you're not going to be able to take that design to the next level unless you work with other people who have different skill sets."
Over the course of their studies, Poirier and his colleagues participated in TME's Summer Institute (2018). This three-month accelerator provides students with funding, skills training and coaching to turn their idea into a sustainable enterprises. Following that program, they participated in Energia Ventures (2018), a three-month intensive accelerator for entrepreneurs with innovative businesses in the energy, smart grid, artificial intelligence, cleantech and cybersecurity sectors.
Backed by investors such as Brightspark Ventures, Build Ventures, Marc Benioff's TIME Ventures, and New Brunswick Innovation Foundation (NBIF), the initial goal of Potential Motors was to license its software to auto manufacturers. Since then, it has pivoted and secured investments required to develop and test its new software that helps control off-road electric vehicles (EV) and create a prototype of its Adventure 1.
Poirier and his team are now targeting a small niche with the introduction of Adventure 1, an electric all-terrain vehicle that is customizable and capable of all kinds of explorations. The company now has 21 full-time employees and has raised $6.5 million to date, which includes $180,000 in federal funding through Atlantic Canada Opportunities Agency (ACOA).
"Once we had a solid plan, TME was able to point us in the right direction for funding, and that's where ACOA came in. It was wonderful to meet with the folks at ACOA. Their excitement really gave us the confidence to innovate and take risks with new ideas well beyond what we originally thought."
Michael Uhlarik, an international award-winning vehicle designer and product planner, joined Potential Motors as head of design; and Radian6 co-founders Chris Newton, Marcel LeBrun (BScE'92, DSc'16) and Chris Ramsey (BScCS'94) currently serve as senior advisors.
Uhlarik spoke about the need for young people who have the ambition to succeed, both within New Brunswick and Canada, to believe in themselves. "If you have a great idea, you can build it here," he said. "We are able to operate on the highest level when compared with other regions of the world."
Poirier says that when academic institutions, government and industry sectors work toward the same goals, they create the context for people to compete on a global level and succeed. "Going through the TME program provided us with a strong baseline education and mentorship opportunities, which gave us the confidence to pursue our goals," he said.
Media contact: Angie Deveau
Photo credit: Marc Landry