Helping people access housing to improve health outcomes
Author: UNB Newsroom
Posted on Oct 27, 2022
Category: UNB Saint John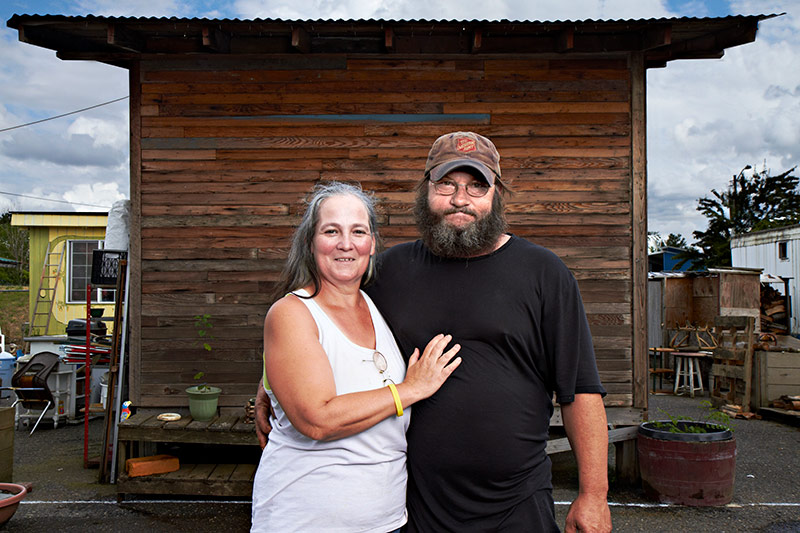 Eric Weissman, an assistant professor of sociology on the University of New Brunswick's Saint John campus, is asking important questions about how we respond to homelessness.
"Although people have a right to housing, there are often many things interfering with access. Homelessness is one of the most significant social problems facing society today. I want to change people's minds about what that means, and I want to be part of the solution."
Weissman is an advocate for progressive social change across New Brunswick and beyond. Through his research, he wants to understand whether our approaches related to homelessness work and what role people who experience homelessness should play in developing their housing solutions.
By using several media-based examples, such as photography and documentary filmmaking, he raises awareness of the ethical and practical issues related to urban social problems, social innovation, healthcare, homelessness and housing planning.
As a member of the Institute for Urban and Community Studies (UCSI) at UNB, Weissman uses a variety of digital media captured over the last 20 years across several cities.
Much of Weissman's research examines emerging and evolving alternative solutions to homelessness, such as tiny home communities like Dignity Village in Oregon and supported emergency tent encampments like Right to Dream Too also in OR, to create self-governing communities for the previously homeless. Drawing from his own experiences with addiction and homelessness, he also analyzes the social factors and personal traumas that drive people out of housing, into housing precariousness and often to the streets, and considers the future of homelessness.
Currently Weissman is a co-principal investigator working on the NB Housing Project with Horizon Health and various Saint John community partners. He is the principal investigator for Visualizing Home, A Filmic Study of Place Attachment in NB. He is also the principal investigator of Post-Secondary Student Homelessness (PSSH) in Canada: Informing Prevention Through Qualitative Analysis. To complete this research, Weissman is currently receiving funding of $126,276 over three years from the Making the Shift social innovation lab.
Weissman believes that the research he engages in is not only a sort of community activism but, at times, a form of social work. "Housing needs to be seen as a type of healthcare, and we have to think of housing as a form of harm reduction for everyone, not just people who are struggling with homelessness," he said. "There is no doubt that having lived experience of these issues helps, we work with the people in my research, and as I discuss in my last book, this research occurs on the front lines."
He explained that some forms of homelessness will always be with us and what we must do is make sure we make those hostile and literal types of homelessness livable. "In order to do so, we must understand the historical and larger structural conditions that provide contexts for understanding poverty and homelessness and the types of spaces set aside for those experiencing it."
He said that 20 years ago, nobody wanted to put money into housing for people who might have addictions or mental health issues as they were seen as undeserving. "Unfortunately, many people have outdated notions about what it means to be deserving," he explained.
Weissman said that housing, especially supportive modes for those who need it, is not only a stable, safe place that protects a person from the elements, but it also contributes to overall health.
"We need to prevent people from entering homelessness in the first place," he said. "So how do we do that? How can we work with our partners to create safer, inclusive spaces for those people impacted by homelessness? And what are the impacts of housing on harm reduction?"
Through his work, Weissman wants to help people explore the connections between their defences and values and the defences and values of homeless individuals. "We want to understand that solutions, such as tent camps and other intentional communities, are not just about shelter, but people needing attachments to others or community. Once such connections are made, it is hard to hide behind exclusionary narratives," he explained.
Overall, Weissman said his work is not just about housing. "We know what housing is; we know how to build it; we know that it works, and we know what it costs," he said. "My work is about changing the narrative to find ways to change people's opinions about housing not only as a fundamental human right but as a way of reducing social harms and harms for individuals."
Weissman explained that it has been proven that providing housing ameliorates several health issues. "It is both morally satisfying and ethically correct to provide housing for people," he added.
Media contact: Angie Deveau
Photo credit: Nigel Dickson (2011), from Weissman's first book (2012), a photo essay he wrote while doing fieldwork in Portland Oregon - Called Dignity in Exile: Stories of Struggle and Hope from a Modern American Shanty Town.