Celebrating UNB's 2022 graduates
Author: UNB Newsroom
Posted on Oct 12, 2022
Category: UNB Fredericton , UNB Saint John
The University of New Brunswick (UNB) will celebrate the accomplishments of 614 fall graduates at in-person graduation ceremonies on Oct. 13-14. We congratulate the 212 students receiving their bachelor's degrees, the 385 earning master's degrees and 17 achieving the highest level of academic achievement, the PhD.
Kanza Hashmat and Zachary Brown look forward to walking across the stage to receive their degrees and reflecting on the years they spent studying and making lifelong connections at UNB.
Kanza Hashmat
Kanza Hashmat is graduating with a master's in interdisciplinary studies. Hashmat is an immigrant from Pakistan, a practicing physician and scholar.
Her experiences as a parent of a child on the autism spectrum disorder (ASD) and navigating the healthcare system inspired her thesis - to create better interaction between parent advocates, schools and the healthcare system, both for domestic and newcomer parents.
"When I was researching the different masters' programs at UNB, the interdisciplinary studies stood out because I was able to combine different disciplines which speak to autism," said Hashmat.
Hashmat chose to focus her studies on the interactions and dynamics surrounding autism and education to influence healthcare system and policy to better support domestic and newcomer parents.
"UNB has given me all the tools I need to succeed and encouraged me throughout my journey," said Hashmat. "My professors have helped me put the pieces together to write my book and have made me into the person I am today."
Contact Hashmat at khashmat@unb.ca to learn more about her work supporting newcomer mothers who have children with autism spectrum disorder.
Zachary Brown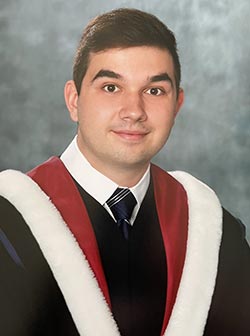 Zachary Brown is graduating with a bachelor of kinesiology in recreation and sports studies with a minor in history.
For as long as Brown can remember, he has wanted to be a physical education teacher.
"Being an educator inspires me," said Brown. "Gym was always my favourite class and I thought being a teacher would be an exciting job. These two elements combined gave me the motivation I needed to pursue my education."
During his time at UNB, he played in the UNB Recreation Services (URec) league in intramurals for hockey, softball and ultimate frisbee. Some of his favourite memories included being an orientation leader and his practicum, teaching fifth grade at the New Maryland Elementary School.
"I had such a positive experience teaching at the elementary level," said Brown. "Originally, I was focused on teaching at the high school level, but thanks to my experiential opportunities, I realized I could do elementary as well. Student orientation was another pivotal moment in my university career. I met most of my university friends during orientation week so being a part of it was truly remarkable."
After graduation, Brown hopes to continue his education at UNB in the Master of Education program.
Awards
Significant awards will be announced during the ceremonies:
The Governor General's Gold Medal will be awarded to Dr. Stephanie Pettigrew for Outstanding Achievement in Graduate Studies.
The Lieutenant-Governor of New Brunswick Silver Medal in Education will be awarded to Madeline Kennedy. This award recognizes the top graduating student in this faculty.
Additional information related to UNB's fall graduation ceremonies can be found at unb.ca/graduation.
Media contact: Kathleen McLaughlin