UNB opens $1 million Shankar Computer Science Laboratory
Author: UNB Newsroom
Posted on Sep 28, 2022
Category: UNB Fredericton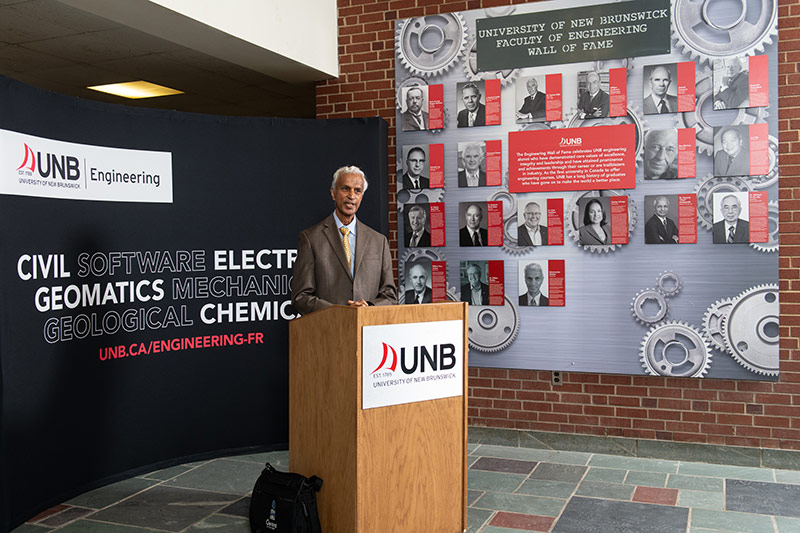 The University of New Brunswick (UNB) is pleased to announce a gift of $1 million to establish the Shankar Computer Science Laboratory.
The 1,900 square foot state-of-the art laboratory was created through the generous support of alumnus Subramonian Shankar. It includes 74 workstation class machines and, in an historic first for UNB, an additional 70 machines with infrastructure allowing access to the computer science laboratory's resources globally. This enables the lab to be used during off hours when students can access the computers from the convenience of their homes.
UNB's president and vice-chancellor Dr Paul J. Mazerolle said, "Mr. Shankar's generous gift of this laboratory is an absolute game changer for students and our computer science program."
"A gift of this magnitude, from an industry leader of Mr. Shankar's stature, is a huge vote of confidence," Dr. Mazerolle said. "This laboratory will help accelerate the digital transformation of New Brunswick."
The grand opening of the laboratory was held on Wednesday, Sept. 28, 2022 following the induction of Subramonian Shankar into UNB's Engineering Wall of Fame. Dean of engineering Dr. Chris Diduch presented Mr. Shankar with the faculty of engineering's Distinguished Alumni Award.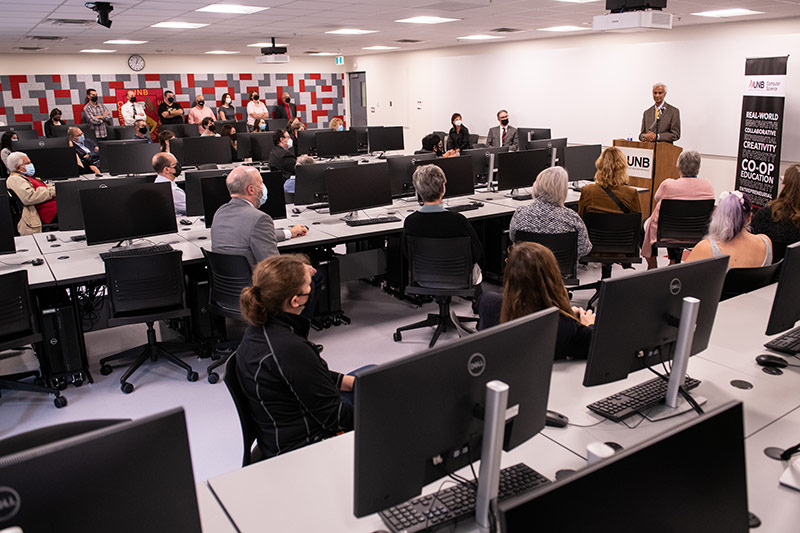 The Distinguished Alumni Award recognizes a UNB engineering alumnus who has demonstrated core values of excellence, integrity and leadership and has attained prominence and achievements through his or her career.
A graduate of the Indian Institute of Technology, Mr. Shankar earned an MSc in Electrical Engineering from UNB in 1976. He co-founded the highly successful international technology company American Megatrends Inc. in 1985, serving as its President and CEO until 2019. He is currently President/CEO of Amzetta Technologies and President of the philanthropic Lakshan Foundation.
Mr. Shankar said, "I was able to do my MSc in Electrical Engineering from UNB because of the generous financial support I received from UNB, without which getting a master's degree would have been a dream. I grew up. It has been my goal to give back to society, especially to UNB. What better way to do that than to contribute to the renovation of the computer science lab, which is being used by hundreds of students every year."
Dr. Mazerolle said Mr. Shankar exemplifies the values of innovation and collaboration at the heart of UNB.
"Our university's motto is Sapere aude, which means 'dare to be wise.' That is what Subramonian Shankar has done," President Mazerolle said. "He used the knowledge he gained at UNB to revolutionize computing and then, in true UNB fashion, he leveraged his personal success to give others the opportunity to learn and grow and transform the world as he has done. We couldn't be prouder to have his name on this facility."
UNB, established in 1785, is home to Canada's longest running faculty of computer science.
Media contact: Heather Campbell