Navigating a child's identity and development
Author: UNB Newsroom
Posted on Aug 15, 2022
Category: UNB Fredericton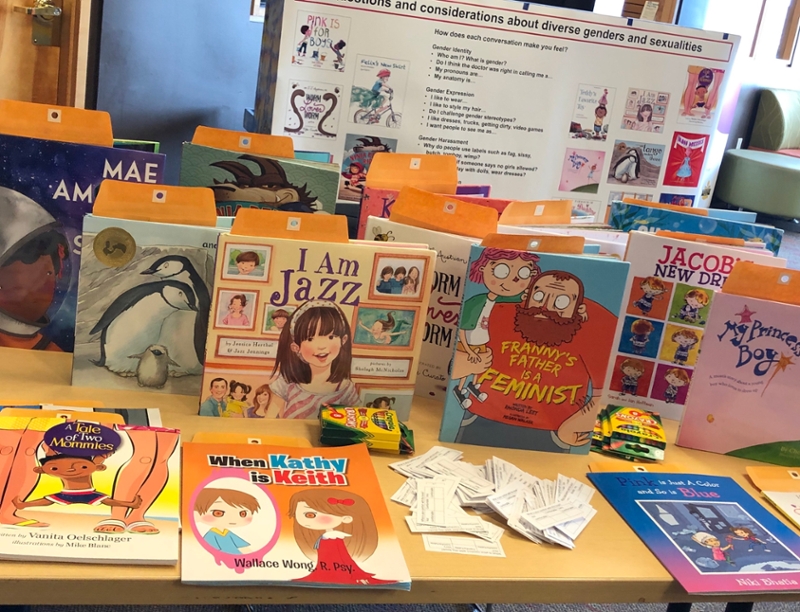 How can stories help parents and children navigate a child's identity and development? That's a question two UNB education researchers - Dr. Pam Whitty and Dr. Pam Malins - sought to explore in their recent project.  
We spoke with them about this work, which they discuss in their article, Families' comfort with LGBTQ2s+ picturebooks: Embracing children's critical knowledges, published in Waikato Journal of Education, Vol. 27, No. 1.
Who are you and how did you come to work together?
Dr. Pam Whitty (PW):
I've worked in early childhood for 47 years in New Brunswick and 30 of those have been at UNB. I just retired two years ago, and I'm professor emerita in the faculty of education now. All my life has been in early childhood education; during my academic career, I did a lot of research in curriculum and literacies for young children.
This work that Pam and I did together started when she arrived three years ago as a new faculty member. Pam was interested in an early childhood focus, and I'm interested in diversity and inclusion -  quite a good fit!
Dr. Pam Malins (PM):
I have background in curriculum as well and am fascinated with the ways that educators and parents talk about gender and sexuality with young children.
Before becoming a full-time academic I was a teacher for several years, mostly elementary school. I went back to do my PhD at Western and before getting the job at UNB, I worked at the Canadian Centre for Diversity and Inclusion. 
I don't have an early childhood education background, but I come to this from the interest of the curriculum at that level. For my dissertation I explored the curriculum across Canada at the kindergarten level for the ways that they might have opportunities to discuss gender and sexual identities.
What were you exploring in this study?
PM: This study came about because a lot of the literature that I had been exposed to while doing my PhD had suggested that parents were the reason that educators weren't necessarily having these conversations and I wondered if that was still the case? I was really trying to understand the community and how people feel about these conversations with young children. So, we connected and started talking.
PW: We met with librarians at the regional office, partly because we wanted to work in the community and not in the schools. We both have an interest in literature and how that works as an educative tool within families and in general.
The librarians were terrific; we were looking for a space to do pop-up sessions with books, and they were really supportive – the libraries are in fact are quite supportive of LBGTQ+ initiatives. We held the first popup, in Fredericton - and then COVID happened.
How did you continue your research during COVID?
PM: Once we couldn't go out anymore, we used social media, and we found seven more parents, in addition to the two who had agreed to take part in more conversations from the pop-up. I think all the people we talked to were keen and interested, and I think they wanted to share their knowledge, their questions and their concerns.
What were some of the results of your conversations?
PM: Our session in Fredericton was very successful, in our eyes, based on attendance. From the conversations parents were willing to entertain, we were thrilled to know they were very interested and open to these books and, beyond that, wanted more of them.
PW: One of the things I was struck by, and it's not surprising, is how in tune and sensitive the mothers were to their children, their capacity to listen to and take them seriously and their deep knowledge about their children.
PM: I think my biggest takeaway, or favourite finding, is similar to what Pam was saying; it was just how much children know. So, for example, what we read in literature is that children know their gender identity by age four. Well, our research absolutely confirmed that. What we heard from at least two of the families was that the child was saying, 'Mom, I'm this,' and the parents were then going and finding books to assist their children through that process. It was the child driving the learning process and the parents along for the ride. That for me, was powerful.
Interested in reading more about Dr. Whitty and Dr. Malins' research?
Their paper is freely available in the open access Waikato Journal of Education. 
Note: Since publishing this research, Dr. Pam Malins has accepted a faculty appointment at Wilfred Laurier University; we wish her great success in her new position.
Media contact: Jeremy Elder-Jubelin