UNB's Pond-Deshpande Centre celebrates 10-year anniversary
Author: UNB Newsroom
Posted on May 26, 2022
Category: UNB Saint John , UNB Fredericton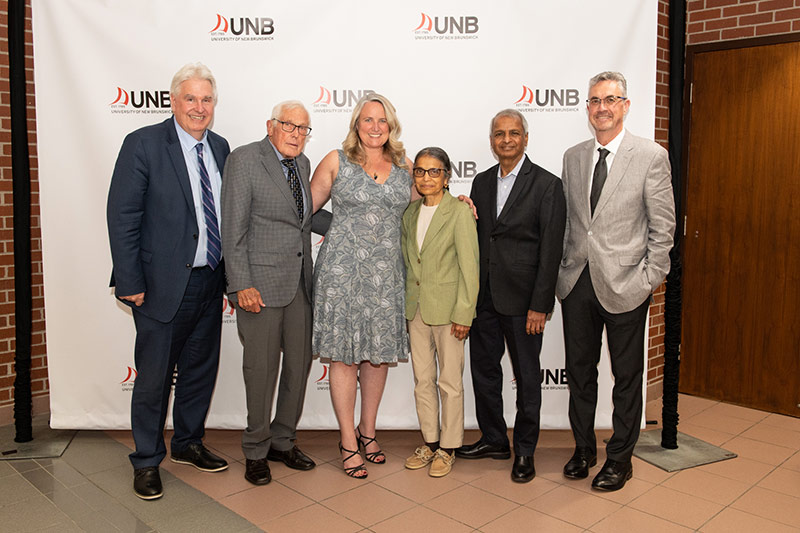 Members of the Pond-Deshpande Centre (PDC) and their supporters gathered on May 24 to celebrate 10 years of success.
The event provided an opportunity for the PDC to thank their founders, showcase their participants and introduce their new business model, PDC 2.0.
"As the Pond-Deshpande Centre enters its new business model, the University of New Brunswick will continue to leverage their expertise," said Dr. Paul J. Mazerolle, president and vice-chancellor of UNB. "As the epicentre of research and innovation in New Brunswick, we strive to expand our reach to help solve the societal challenges of today and tomorrow. PDC 2.0 will help us get there."
The PDC, founded at UNB with a $5-million donation from entrepreneurs Gerry Pond and Gururaj and Jaishree Deshpande, was aimed at leveraging entrepreneurship to find solutions for complex socio-economic issues. Another $5 million was raised from the Province of New Brunswick, the Atlantic Canada Opportunities Agency, and organizations such as the J.W. McConnell Foundation.
Over the years, the PDC team has inspired the next generation of young change makers, invested more than $1 million in early stage start-ups and launched the first Public Social Innovation Lab in Atlantic Canada. These initiatives helped launch companies like Resson Aerospace, Symptek Solutions, Hot Spot Parking and SomaDetect. The work in systems change, through NouLAB, helped transform the way schools welcome newcomer students, launched a process for recruiting foreign nurses and is currently addressing the challenge of upskilling early childhood educators to improve the outcomes for pre-school aged children.
"We are so grateful to the founders and funders of the Pond-Deshpande Centre over the past 10 years," said Karina LeBlanc, executive director of the PDC. "The pandemic has highlighted the importance of bringing together disparate opinions to find solutions to difficult problems. The support we receive allows us to continue to engage with our stakeholders, partners and participants, while leveraging our entrepreneurial DNA to address the root causes of pressing social issues."
Media contact: Angie Deveau
Photo: (L-R) Dr. Paul J. Mazerolle, Gerry Pond, Karina LeBlanc, Jaishree Deshpande, Gururaj Deshpande, and Dr. Eddy Campbell. Credit: Cameron Fitch/UNB Media Services.