J Herbert Smith Centre announces Global Technology Solutions pitch winners
Author: UNB Newsroom
Posted on May 11, 2022
Category: UNB Fredericton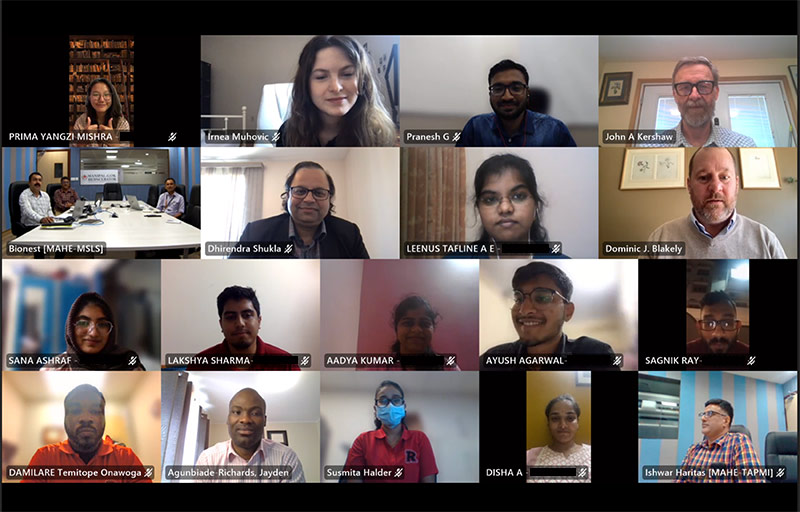 The University of New Brunswick's J Herbert Smith Centre for Technology Management and Entrepreneurship, in partnership with M-GoK Bioincubator of Manipal Academy of Higher Education (Manipal, India), announced the winners of the Global Technology Solutions (GTS) program during the final pitch event, which took place virtually on April 23.
GTS is a unique four-month program that unites students from the Manipal Academy and UNB. The program offers students a global perspective as they work to solve some of today's toughest technology challenges. The program's first cohort gathered 10 students from MAHE and five from UNB from a wide range of disciplines spanning medicine, dentistry, entrepreneurship, computer science, mechanical engineering and biotechnology.
Students worked in teams to develop innovative solutions to problems within the food security, health innovation, mobility and transportation, potable water, or renewable energy sectors.
The five teams of the first GTS cohort were:
Heal with Herbs: Disha Muralidhar, Jahnavi Vallamkonda and Damilare Onawoga
My Health Record: Dr. Sagnik Ray, Susmita Halder and Dr. Sana Ashraf
Farmers App: Leenus Tafline, Aadya Kumar and Brandon Saulnier
Demassist: Pranesh Gopaln, Prima Yangzi Mishra and Kanyinsola Olajide
Toto: Lakshya Sharma, Seun Agunbiade and Ayush Agarwal
The group judged to have presented their need and solution the best was Demassist, a platform created to aide elderly individuals with dementia. Farmers App, a mobile platform that will assist farmers in getting their products to more profitable markets, won the "Greatest Social Impact" award. Both teams will receive $1,000.
The team of judges consisted of Ishwar Haritas and Mohammad Zuber from the Manipal Academy, and Dhirendra Shukla and John Kershaw from UNB.
"This unique initiative of UNB and MAHE provides a platform for innovators from both universities to address global problems with significantly impacted translative technology ideas. We are happy to see the potential outcome of the multidisciplinary student's collaborations in the Global Technology Solutions program and in the coming years, we will be able to support more innovators through this program. Manipal-Government of Karnataka Bioincubator will further handhold the teams with incubation and mentoring support to validate the technology and launch their products," said Dr. Manesh Thomas, CEO of Manipal - Government of Karnataka Bioincubator.
"It is amazing to see the growth of these students over the last months. In some cases, this was their first time being introduced to the theory of entrepreneurship and its application," said Dominic Blakely, innovation and entrepreneurship strategist at the J Herbert Smith Centre. "To do this with team members nine-and-a-half hours away is incredible. Yet they shared – work, frustrations, common student complaints and stresses of deadlines – and succeeded. To see the results of their work with such inspirational pitches based upon international collaboration was exactly what we hoped to see come from this. Manesh and I are both looking forward to starting up with a new cohort in the fall."
Media contact: Kelsey Pye