UNB earns AACSB International accreditation
Author: UNB Newsroom
Posted on May 12, 2022
Category: UNB Fredericton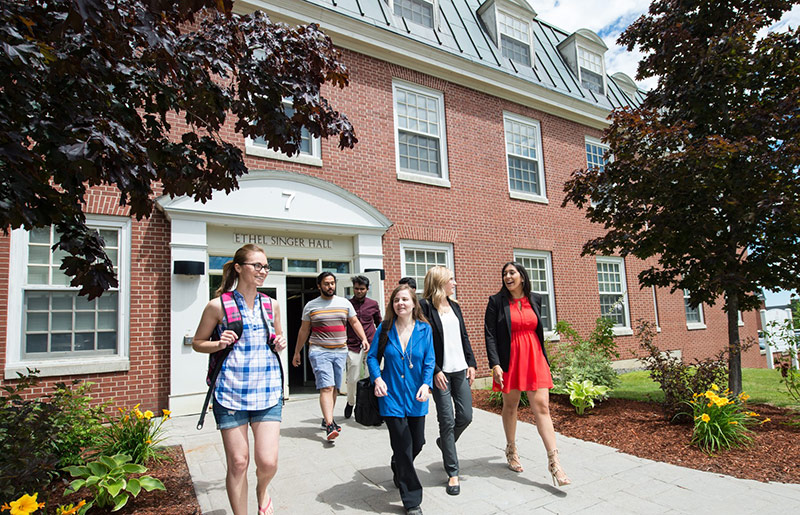 The University of New Brunswick and the Association to Advance Collegiate Schools of Business (AACSB International) have announced the faculty of management on the Fredericton campus has earned business accreditation.
"Thanks to the faculty of management's commitment to excellence in research and program delivery, UNB students have the opportunity to attend a business school that is endorsed by one of the most prestigious accrediting bodies for business schools in the world," says Dr. Paul J. Mazerolle, president and vice-chancellor of UNB. "We are thrilled to see the faculty of management endorsed by AACSB accreditation. It is a proud moment for UNB."
Synonymous with the highest standards of quality, AACSB accreditation inspires new ways of thinking within business education globally. As a result, less than six per cent of the world's schools offering business degree programs hold AACSB business accreditation.
"UNB's commitment to earning accreditation is a true reflection of their dedication – not only to their students, alumni network and greater business community, but to the higher education industry as a whole," says Stephanie M. Bryant, executive vice-president and chief accreditation officer of AACSB. "Today's students are tomorrow's business leaders, and the addition of faculty of management to the network of AACSB-accredited business schools will have a lasting positive impact for their institution, both locally and globally."
AACSB accreditation ensures continuous improvement and provides a focus for schools to deliver on their mission, innovate and drive impact. AACSB-accredited schools have successfully undergone a rigorous review process conducted by their peers in the business education community, ensuring that they have the resources, credentials and commitment needed to provide students with first-rate, future-focused business education.
About UNB
The University of New Brunswick is Canada's oldest English-language university. Founded in 1785, the multi-campus institution has a rich history and a dynamic focus on innovation, experiential learning and entrepreneurship. UNB has more than 10,500 students from nearly 100 countries while several thousand more take UNB courses online and at partner institutions around the world.
About AACSB International
Established in 1916, AACSB International (AACSB) is the world's largest business education alliance, connecting educators, learners, and business to create the next generation of great leaders. With a presence in more than 100 countries and territories, AACSB fosters engagement, accelerates innovation, and amplifies impact in business education. Learn how AACSB is transforming business education for a better society at aacsb.edu.
Media contact: Liz Lemon-Mitchell
Photo: Students outside Singer Hall. 2016 file photo.