UNB students convert apple pomace into can toppers
Author: UNB Newsroom
Posted on Apr 4, 2022
Category: UNB Fredericton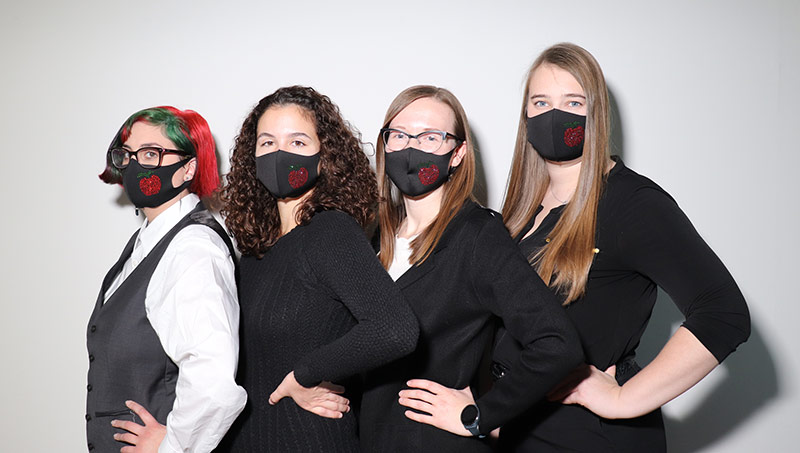 Students from the University of New Brunswick have developed an innovative process to help the cider industry become more sustainable while creating value from waste by-products that are typically disposed.
Team PomPak includes students Jana Giles, Melanie Blanchette, Andie Kroll and Grace Weaver who are enrolled in the technology management and entrepreneurship product design and development capstone course at UNB Fredericton. Together, they are applying their technical knowledge and skill along with an entrepreneurial spirit to convert apple pomace waste into pulp packaging products for orchards and cideries to use on-site.
"We're aiming to repurpose the waste and use it to create a sustainable packaging alternative," says Giles. "The biodegradability of the products means that it will reduce harm to ocean life and minimize the use of plastics."
Referencing the traditional papermaking processes, the group uniquely adapted the process to reduce energy consumption compared to traditional cardboard by using pomace from apples juiced for cider instead of raw materials.
Pomace consists of the leftover skins, pulp and seeds that accumulate during the process of winemaking, juice production or cider pressing.
"Traditional papermaking processes are highly energy intensive and use raw materials such steel, oil, grain, gasoline, forest resources, plastic or minerals to create products that are sometimes used for only minutes," says Giles.
Unlike other participating groups in the upcoming UNB Engineering Design Symposium, the PomPaK team does not have a client they're working with. The concept for their project was created through their own research and interests in the cider industry.
Both the faculty of engineering and programs within the J Herbert Smith Centre serve to equip students with the knowledge, skills and experience to adapt and thrive in an economy marked by change.
"Research skills have been crucial for this project," says Giles. "Since we have been trying to create a unique process that doesn't exist, we had to piece together different types of research to make it work. Our backgrounds in technology, business administration, management and entrepreneurship are critical for developing the financial plan."
The group will present their prototype at UNB's annual Engineering Design Symposium on Thursday, April 7. The event will be held online and in-person at the Wu Conference Centre. Registration is available and all are welcome to attend free of charge.
Media contact: Kathleen McLaughlin
Photo: L-R Andie Kroll, Grace Weaver, Jana Giles, Melanie Blanchette