The New Brunswick cybersecurity ecosystem
Author: Dr. Paul J. Mazerolle
Posted on Mar 21, 2022
Category: UNB Fredericton , UNB Saint John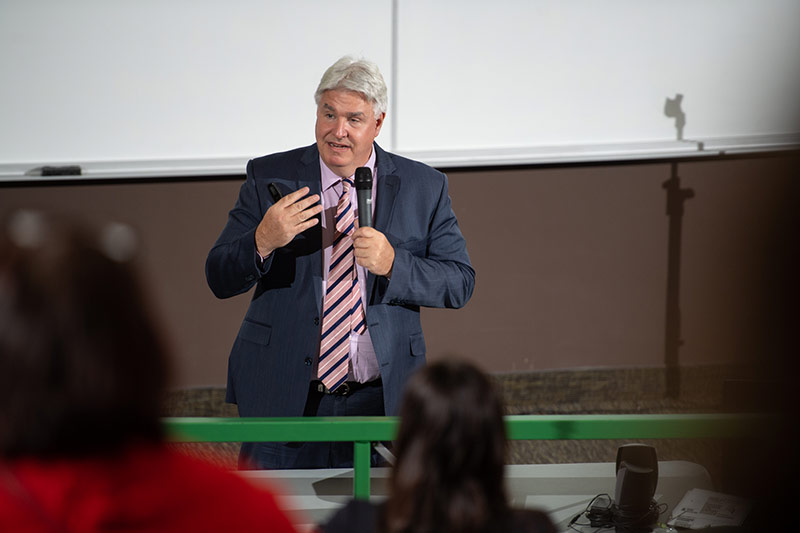 The threats associated with cybercrime are many, varied and impactful. Each and every day millions of individuals and organizations are affected by cyberattacks. The losses associated with these threats are now described beyond billions. A recent report by Cybersecurity Ventures predicts the annual costs of cybercrime will exceed $10 trillion USD by 2025. The actual impact of the attacks exceeds financial losses. Cybercrime involves the disruption of essential services, the loss of economic trade and activity, threats to critical infrastructure and substantial risks to national security.
Despite this, cybercrime remains amongst the most misunderstood type of crime affecting the community. Many Canadians are not aware of the risks they encounter every day as they navigate their emails, online banking, social media and smart phones. This is part of the challenge of cyberattacks – where and how are they occurring and what can be done to minimize individual and organizational risks? This begs the question: How can New Brunswick counter these risks?
In our province we are fortunate to have a highly engaged, thriving cybersecurity ecosystem. This ecosystem includes a collaborative network of more than 50 organizations, world-class cybersecurity infrastructure, supportive governments, a community of academic experts, and a highly skilled pipeline of talent emerging from our universities and colleges. Cybersecurity professionals are in high demand and developing this skilled talent pipeline is essential to attracting global companies who have invested and established national centres of excellence in New Brunswick. Currently, there are hundreds of jobs operating in cybersecurity in New Brunswick with thousands of jobs on the horizon.
In his book, Unicorn in the Woods, Gordon Pitt describes the origin of New Brunswick's thriving cybersecurity ecosystem which began 25 years ago when university-based computer technicians and academic leaders embraced a problem-based approach.
It is this solution-focused and entrepreneurial mindset to foster start-up companies that subsequently led to the involvement of experienced business leaders and technology investors to establish Q1 Labs. The successful acquisition of Q1 Labs by IBM is a powerful illustration of the capability of New Brunswick-based experts and entrepreneurs to establish world-class responses to the challenges of cybercrime. This legacy continues today and is directly linked to the maturing cybersecurity ecosystem in New Brunswick.
Indeed, our ecosystem remains poised to leap forward and position New Brunswick as a global leader in cybersecurity. Two recent developments emphasize the confluence of university, college and government commitment and the deep involvement of private industry is very strong.
First, the need to ensure deep collaboration and coordination across the ecosystem was recognized through a memorandum of understanding between government, academia and industry to nurture and expand cybersecurity in the province. Second, the National Cybersecurity Consortium (NCC) will lead Canada's new Cyber Security Innovation Network. The NCC, which counts the Canadian Institute of Cybersecurity at UNB as a founding member, will receive up to $80 million from the federal government to advance Canada's cybersecurity infrastructure, knowledge and workforce.
This is a significant opportunity as well as validation of the strength of our cybersecurity ecosystem in the province.
Digital technology touches nearly every aspect of our lives. As we emerge from a global pandemic where our daily reliance on digital tools increased dramatically and how we conduct business has changed forever, data protection has become even more critical. Strong cybersecurity is the foundation of a thriving digital-first economy.
While the cybersecurity challenges we face will constantly evolve, New Brunswick's cybersecurity ecosystem is uniquely positioned to help meet those challenges head on. We are all invested – government, industry and academia alike. Together, we will build a bright and safe future for New Brunswick and all Canadians.
Dr. Paul J. Mazerolle is the 19th president and vice-chancellor of the University of New Brunswick.