UNB's Pacey Lecture examines infant food insecurity in Canada
Author: UNB Newsroom
Posted on Feb 23, 2022
Category: UNB Fredericton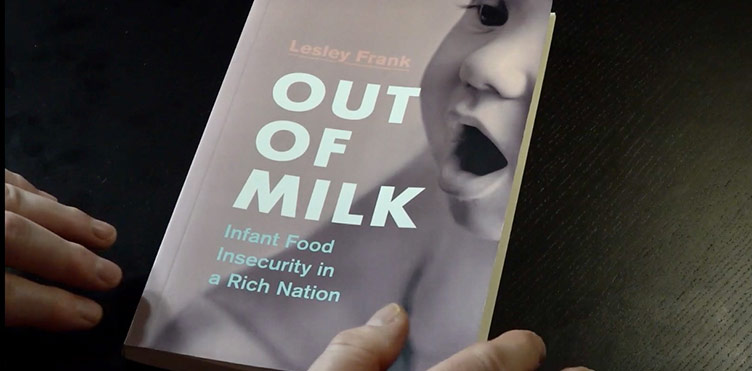 Did you know that mothers who can least afford to buy infant formula are less likely to continue breastfeeding? Dr. Lesley Frank explores this paradox in her book, Out of Milk, revealing the experiences of mothers struggling to feed their children in Canada.
On Wednesday, Feb. 23, Dr. Frank, a Tier II Canada Research Chair in food, health and social justice, and professor of sociology at Acadia University, will deliver the annual W.C. Desmond Pacey Memorial Lecture organized by the University of New Brunswick's faculty of arts in Fredericton.
The lecture, Out of Milk: Infant Food Insecurity in a Rich Nation, will address public policy failures that undermine a caregiver's ability to feed their infants and offer solutions to support families with young children.
"More than 1.2 million children in Canada live in food insecure households, but what food insecurity looks like in early childhood was relatively unstudied," says Dr. Frank. "My work seeks to make this visible and inform policy debates about families' and children's access to food for health and wellness, and social justice."
Dr. Frank is a UNB graduate and received her PhD in sociology in 2013. She is a transdisciplinary social science scholar skilled in innovative, multi-sector and policy-relevant research related to food and health inequity experienced by marginalized populations.
In June 2020, Dr. Frank released her book, Out of Milk, sharing stories of mothers impacted by economic and social conditions that leave families struggling. The stories are based on real and compelling interviews Dr. Frank has conducted throughout her research.
"The book allowed me to write a more complete story of infant feeding that redirects our gaze from debates about the best way to feed a baby towards reimagining what is needed for babies and their parents to be food secure.
"Many of the stories in the book illustrate how public policy lives inside people and shapes their experiences," says Dr. Frank. "I hope the listeners are inspired to think about and contribute to policy change efforts to ensure adequate social and economic supports for family and child wellbeing."
The lecture will be a live online event accessible through Microsoft Teams on Feb. 23 at 5:30 p.m. (Atlantic).
Media contact: Kathleen McLaughlin