UNB students dedicated to improving mental health on campus
Author: UNB Newsroom
Posted on Dec 22, 2021
Category: UNB Fredericton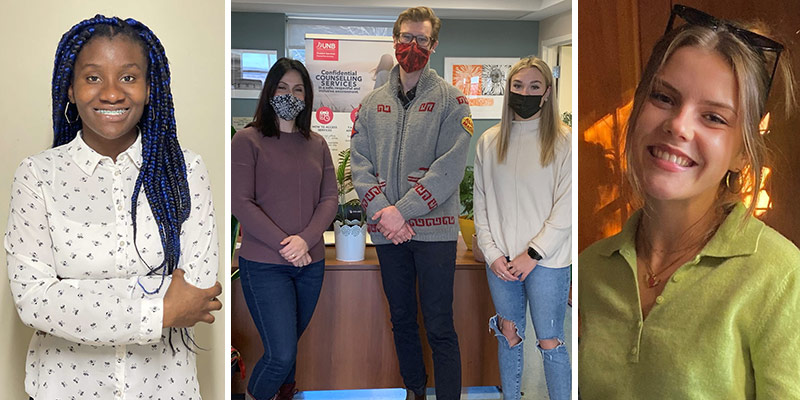 Four psychology students in the faculty of arts at the University of New Brunswick are using a unique experiential learning opportunity to help their peers improve their mental health.
Michelle Addy, Yelena Birk, Holly McLaughlin and Mallory Murphy are serving as positive mental health coordinators with UNB Counselling Services through the Arts Internship Program on the Fredericton campus. Matt MacLean, the university's mental health strategist, is supervising their internships.
Each student is working on a mental health research project intended to create a more positive, inclusive and safe learning environment for all.
Addy and Murphy are studying the experiences of international students and how they perceive mental health and access support services. Addy, an international student, and Murphy, a domestic student, are working together to create a comprehensive outreach strategy.
"We want to provide a platform for these students to openly share what mental health means to them so that we can better serve their needs, which are very likely different from those of domestic students," says Murphy.
"This internship gives me the opportunity to apply my academic skills to a real-world setting and to help international students like myself better adjust to a foreign setting such as studying in university abroad," says Addy.
Birk is assessing what role social media can play in promoting positive mental health services and conversations on campus. She says she's used to living in an online world, coming to UNB from Israel, where the population emphasizes the use of technology. Her goal is to promote positive mental wellbeing and highlight resources.
"This opportunity is a dream come true," Birk says. "It's a chance to apply all my knowledge in real life. I'm able to use what I'm studying and my experiences to make a difference."
McLaughlin's research focuses on test anxiety. She plans to design a cognitive behavioural therapy group-based treatment model that could be implemented next year. The UNB Student Accessibility Centre is also involved in the project, as many of the accommodations they provide support students with test anxiety.
"Education often relies heavily on testing and anxiety can be very detrimental to a student's grades, which we want to alleviate," she says. "Through this collaboration, the Student Accessibility Centre will also benefit and hopefully see a reduction in accommodation requests."
"These students have unique experiences and perspectives from around the campus community, and they've come up with incredible ideas," says MacLean. "They're working with Counselling Services to help research, innovate and generate new ideas to better serve mental health needs on campus. We're also providing students with valuable experience working in the mental health field, which can be hard to come by."
The placements were coordinated through the Arts Internship Program, a for-credit internship for upper-level students that places them with local non-profit organizations and community partners. Although UNB Counselling Services and the faculty of arts have collaborated in the past, this is the first time this particular internship is being offered.
"These students get an amazing experience and education out of it, but they also get to really contribute to campus life. They get to do something and see it take effect right before their eyes."
Media contact: Kelsey Pye
Photos: Michelle Addy, Yelena Birk, Matt MacLean, Holly McLaughlin and Mallory Murphy are working together to improve mental health for students on the UNB Fredericton campus.