Arthur L. Irving Family Foundation contributions give UNB a competitive advantage
Author: UNB Newsroom
Posted on Nov 29, 2021
Category: UNB Fredericton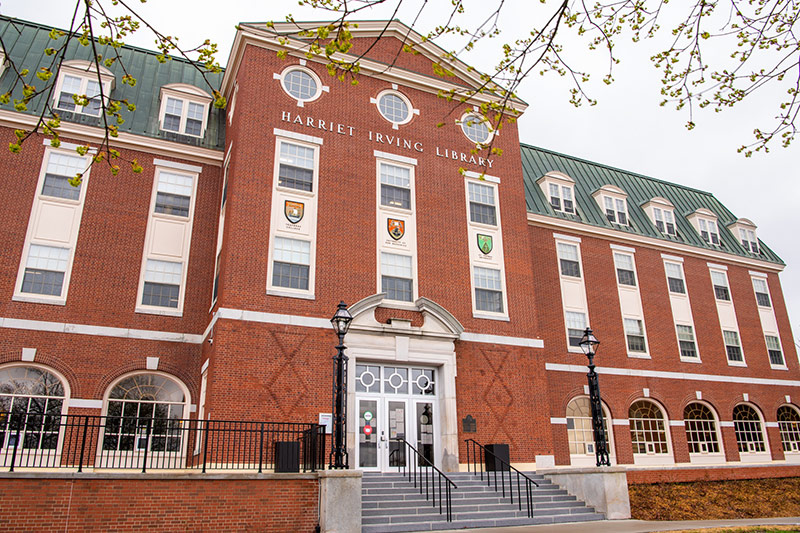 Building on a longstanding reputation in leading research, entrepreneurship and innovation at the University of New Brunswick, the Harriet Irving Library Research Commons and Rose Garden are now officially open. With a $6.4-million gift from the Arthur L. Irving Family Foundation, these newly constructed spaces create interdisciplinary and multifunctional learning and gathering spaces on campus.
Spanning the third floor of the Harriet Irving Library, the Research Commons is designed to transform traditional research practices in the digital age with specialized library services, spaces and technologies to support the research life cycle by creating new points of connection between student and faculty scholars and researchers.
Active learning spaces facilitate the presentation of work and discussions by connecting devices to share data and visuals across screens/campuses.
Audio studio develops sound-based projects with studio-quality equipment and software within a sound-controlled environment.
Data visualization lab produces endless possibilities with a data visualization wall display with a full-screen touch overlay for direct interactivity.
Fabrication lab is a versatile space open to people at all skill levels that engages in hands-on learning and making activities and is complementary to UNB Makerspace.
Digital scholarship hub is a dual-monitor PC computer lab providing access to specialized software for data visualization, media and digital project design, publishing, data management and visualization, and humanities computing.
Innovation hub is a collaborative space that can be used by both small and large groups to activate and express their passions for teaching, learning, research, and entrepreneurship.
Lightboard studio is a video recording and streaming space that uses a height-adjustable lightboard to annotate projected images in real-time.
Bookable study and seminar rooms, teaching and event spaces, and a graduate lounge are also available in the Research Commons.
While the Harriet Irving Library Research Commons is housed in a newly renovated space on the Fredericton campus, UNB Libraries' vision of furthering innovation, scholarship and research is a distinctly bi-campus approach in collaboration with the Hans W. Klohn Commons at UNB Saint John and provides a nexus for new initiatives that broadly serve the UNB community.
In addition to the Harriet Irving Library Research Commons, UNB celebrated the extraordinary contribution of the Arthur L. Irving Family Foundation to the recently completed Harriet Irving Rose Garden and the restoration of the front entrance of the Harriet Irving Library.
Honouring the life of Harriet Lila Irving, for whom the library was originally named, the Rose Garden is designed as a place to gather with friends, to rest and reflect, a respite from the pressures of daily activity for students, faculty and staff. This peaceful and attractive place will be of tremendous value to the university community.
Construction on the Research Commons began in 2018 and it was largely completed in the fall of 2020, with students booking the group study rooms since November 2020.
Quotes
"The Arthur L. Irving Family Foundation has made a transformative contribution to UNB by creating the Harriet Irving Library Research Commons. The family's support for our students' experience, education and research capacity is unparalleled. We are very grateful for the competitive advantage this exceptional, one-of-a-kind research commons will give UNB, benefiting the community and the province." - Paul J. Mazerolle, President and Vice-Chancellor, UNB
"These spaces reflect a shared commitment to transformative education. It is our hope that they inspire students, foster innovative thinking and importantly help students in realizing their dreams during their time at UNB." - Sandra Irving (BA'95, DLitt'09)
"First and foremost, these gifts are for the students. My mother loved helping young people. She loved her family and she loved the flowers in her garden. She would be so happy today to have the Research Commons and rose garden named in her honour at the library which proudly bears her name." - Arthur L. Irving (DLitt'09)
Media contact: Paisley Sibbald
Photo credit: UNB Media Services