Canadian Institute for Cybersecurity builds IoT Security Lab with ACOA funding
Author: UNB Newsroom
Posted on Oct 7, 2021
Category: UNB Fredericton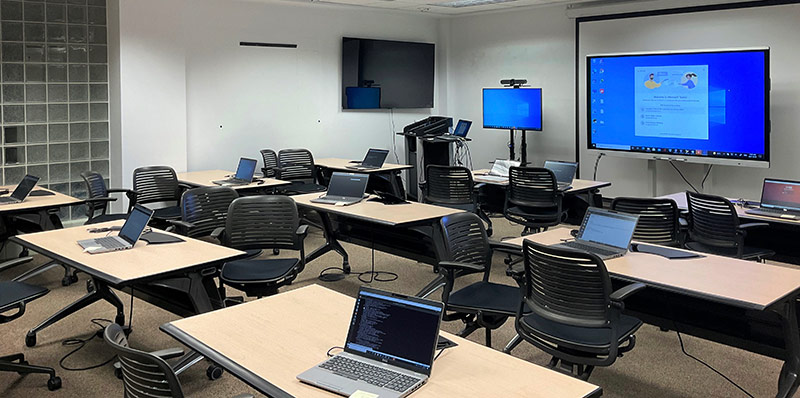 The Canadian Institute for Cybersecurity (CIC) at UNB Fredericton has opened a state-of-the art Internet of Things (IoT) laboratory through funding secured from Atlantic Canada Opportunities Agency (ACOA).
The CIC IoT Security Lab is designed to support experimental security and privacy research, training and industry collaboration in consumer (e.g. wearable and smart home) and industrial (e.g. smart grid) IoT uses. The lab will serve as a hub for research and innovation in the domain of IoT security and privacy, a platform for training internal and external students in IoT security, a resource for internal and external project collaboration, and a testbed for large corporations and start-ups involved in developing or deploying new IoT devices and solutions.
"The CIC IoT Security Lab will serve as a testbed and hub for training, research and enabling the design of IoT devices and networks with security in mind," says Dr. Ali Ghorbani, Tier-1 Canada Research Chair and director of the CIC. "Many studies have unraveled security vulnerabilities in IoT networks. Recently, organizations are beginning to recognize the need for employee training and awareness as it relates to IoT threats."
IoT systems support new business models that involve new actors including users, devices and service providers. These actors affect the trust and security of the entire network. Once a threat actor has access to a device in a network, they may use tactics such as social engineering and lateral movement to access other devices and information that would usually be inaccessible. Therefore, security must be a crucial part of the design of IoT systems across every part from the devices to the networks and programs.
"By hosting several devices, the IoT Security Lab provides a unique opportunity for students, researchers, and other users to experiment with new devices and applications, develop and test novel methods, generate specialized datasets, and apply AI techniques to uncover new insights and valuable information for IoT privacy and security," says Dr. Ghorbani.
About the Canadian Institute for Cybersecurity
The Canadian Institute for Cybersecurity (CIC) is a comprehensive multidisciplinary training, research and development, and entrepreneurial unit that draws on the expertise of researchers in the social sciences, business, computer science, engineering, law and science. Based at the University of New Brunswick in Fredericton, the institution is the first of its kind to bring together researchers and practitioners from across the academic spectrum to share innovative ideas, create disruptive technology and carry out groundbreaking research into the most pressing cybersecurity challenges of our time.
Media contact: Kelsey Pye
Photo credit: Faruk Ener