UNB teams up with Saint John Energy to improve network efficiency and lower environmental impact
Author: UNB Newsroom
Posted on Feb 18, 2021
Category: UNB Fredericton , myUNB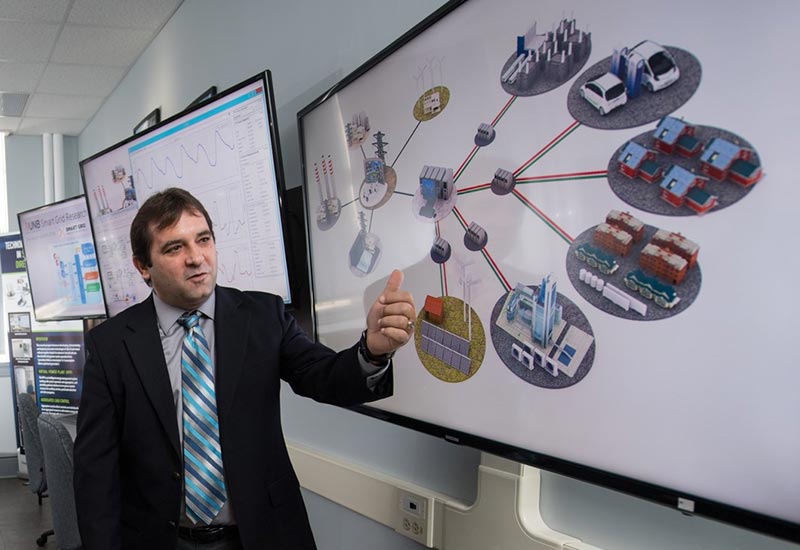 A team of UNB researchers have been working in partnership with Saint John Energy to develop integrated technology solutions for smart grid initiatives to maximize energy efficiency while reducing their environmental footprint.
Saint John Energy and UNB's Emera & NB Power Research Centre for Smart Grid Technologies began the pilot project in 2019 and have been getting excellent results to date. Dr. Eduardo Castillo Guerra is leading the UNB team in the project, which involves upgrading and adding new smart grid technologies to the local distribution network that connects more than 36,000 customers in the Saint John region.
There are two main objectives: to develop forecasting algorithms that will predict peak loads and shifting capacity of embedded energy resources (EER); and to develop innovative energy-control technologies to dispatch embedded energy resources for peak load reduction.
Dr. Castillo Guerra says the motivation for this research is the positive outcome in both cost and environmental impact for local distribution companies and their customers. The cost of electricity at peak times is two orders of magnitude higher – going from just cents to dollars. But with software to forecast peaks and technologies and to flatten the load demand curves, the local distribution company can keep rates consistently low for customers and use less energy generated from carbon-intensive sources.
"We're using consumption data from Saint John Energy's network as well as historical weather and temperature data to build algorithms that accurately determine peak load times and magnitudes," Dr. Castillo Guerra says. "We're also building control algorithms and technologies for EERs – heat pumps, water heaters and energy storage units – to optimize and orchestrate when they're charged and discharged. This has a big impact on control over the load demand and helps shave off significant peaks."
For its part, Saint John Energy is investing in modernized devices, such as those recently purchased from the UNB electrical engineering alumni behind Stash Energy.
"We want to maximize energy efficiency and contribute positively to environmental efforts and the regional economy," says Carl Ozkaynak, director of Smart Grid for Saint John Energy. "The electric power industry worldwide is undergoing rapid changes and transforming from carbon-intensive to low-carbon systems while still ensuring affordability, reliability, security, sustainability and flexibility. We want to be among the first to do just that."
Dr. Castillo Guerra says that at the halfway point in the three-year pilot project, the results have been excellent.
"We've demonstrated that we can flatten the load consumption curve. Now, in our final year of the project, we'll test the operation of EER devices practically. We've got a dedicated and motivated team at both UNB and Saint John Energy working to make this successful. It's really exciting to do research that's applied in our communities and makes a real impact."
Media contact: Kelsey Pye