UNB and NB Power announce continuation of important research, supported by federal funds
Author: UNB Newsroom
Posted on Feb 11, 2021
Category: myUNB , UNB Saint John , UNB Fredericton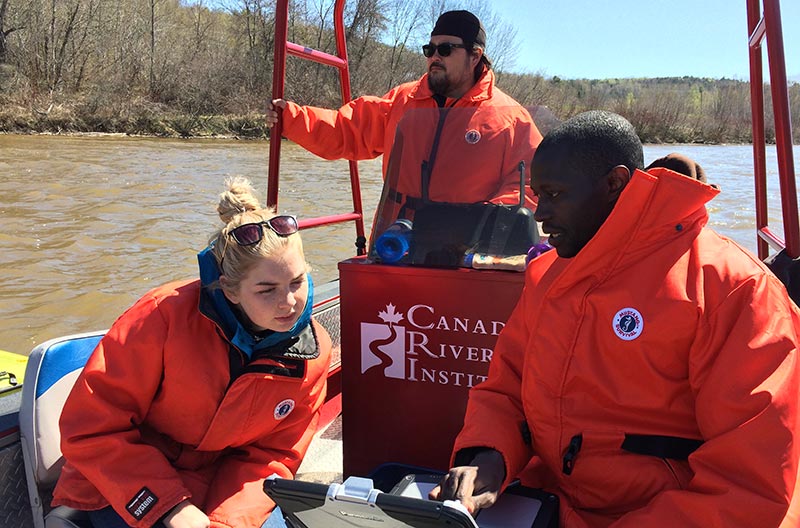 The University of New Brunswick and NB Power have announced the continuation of the Mactaquac Aquatic Ecosystem Study (MAES) research project, supporting the Mactaquac dam renewal project.
Phase II of MAES, led by UNB's Dr. Allen Curry, a professor of biology, forestry and environmental management, and fellow and science director of UNB's Canadian Rivers Institute, continues the groundbreaking work started five years ago. The project is funded by $3,032,746 from NB Power and $2,909,214 from the National Science and Engineering Research Council (NSERC)'s Collaborative Research and Development (CRD) Grant program.
"In phase I, we produced more than 90 reports and peer-reviewed publications exploring the Mactaquac facility's impact on the Saint John River ecosystem," said Dr. Curry. "In phase II, we will continue developing the aquatic and engineering science that NB Power and regulators need to make informed environmental decisions regarding the Mactaquac facility and the other facilities along the river. This is one of the most comprehensive river science studies ever conducted in Canada, for the largest dam renewal project in the world, and the world is watching as we navigate the innovative approach of decision-making based on science. We are very proud to have this opportunity to showcase high-quality research and environmental thinking for decision making."
Researchers from McMaster University, Wilfrid Laurier University, University of Calgary and the Institut national de la recherche scientifique will also take part in the project.
For NB Power, MAES represents a critical opportunity to use science and engineering research expertise in their decision making and in making improvements to infrastructure for a positive environmental impact. This case study leverages university research in adapting hydropower production for a contemporary context while investing in New Brunswick's future scientists and engineers.
"We are very pleased to partner with the Canadian Rivers Institute and the MAES project. This investment by NB Power in the research and development is required to sustain our hydropower business model for delivering renewable electricity," said Keith Cronkhite, the utility's president and CEO. "This partnership highlights the emerging economic significance of working on protecting and enhancing our ecosystems. It will be a precedent-setting case study for Canada."
The Mactaquac Hydroelectricity Generating Station is NB Power's largest dam. The first phase of MAES provided research insight for NB Power's evaluation, and the utility ultimately recommended the Life Achievement option.
In this second phase, the team will provide research data and insight toward an environmental impact assessment and subsequent environmental monitoring program for the selected Mactaquac Life Achievement Project. It will also provide scientific and engineering support for fish passage solutions for the dam and the entire river, as well as guidance for managing river flow to protect this ecosystem in an era of climate change.
Ultimately, the MAES project's legacy will be a model of approaches and methods to better use aquatic ecosystem science to inform decision-making and management for future hydropower projects across Canada and globally, and a new generation of scientists and engineers ready to do the work.
The NSERC CRD Grant program supports projects that create collaborations between universities and external partners, providing access to research expertise, potential for knowledge translation and opportunities for students and postdoctoral fellows to engage in learning opportunities.
"This renewed collaboration is a testament to the strong expertise and experience of the research team and collaborators from NB Power, local Indigenous communities and local NGOs," said Marc Fortin, vice-president, research partnerships, NSERC. "Built on a strong science foundation, this research project will generate results that will be applicable to all of the country's hydropower operations and will enhance Canada's leadership role in advancing understanding of the impacts of hydroelectric dams on large river ecosystems."
MAES will provide research experience for 18 graduate students, six postdoctoral researchers, and more than 40 undergraduate summer positions at participating institutions. The funded training and research experience will support their development as scientists who can further enable important research and innovation efforts.
"This project exemplifies the value UNB can bring to our partners and to our communities," said Dr. Paul J. Mazerolle, president and vice-chancellor of UNB. "Through MAES, our researchers provide their expertise to help understand and address the complex and critical issues facing our province's waterways and energy infrastructure. Through this project, students will gain valuable research and learning experiences which reflects an investment into the development of knowledge and skills as well as the province's future success."
The second phase of MAES began in 2019 and will continue until March 2024.
Media contacts
Photo credit: Rob Blanchard/UNB