UNB Saint John's Promise Partnership celebrates 10-year anniversary
Author: UNB Newsroom
Posted on Dec 16, 2020
Category: UNB Saint John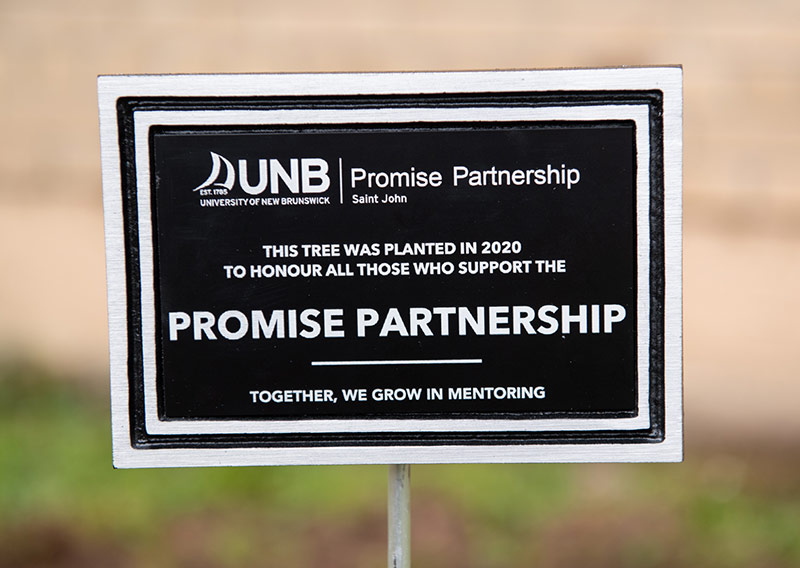 UNB Saint John's Promise Partnership has marked a decade of supporting the community.
Launched in 2010, the Promise Partnership connects UNB Saint John with the local community through a number of programs, all aimed at closing educational attainment gaps associated with low socio-economic status. The programs are designed to provide academic support to Saint John youth whilst providing volunteering opportunities for UNB students.
The initiative's Student Mentoring Program was the first program launched by the Promise Partnership and pairs children from Hazen White-St. Francis School with UNB volunteers to provide educational support through structured literacy and numeracy activities. 
As part of the anniversary celebrations, a tree was planted at Hazen White-St. Francis School in honour of project donors Emera NB. Emera NB supports bursaries for students who participate in the Promise Partnership High School program, many of whom were part of the Student Mentoring Program.
The theme of the 10-year anniversary was "We Grow in Mentoring," with the planting of the tree symbolizing the growth that has taken place in the Hazen White-St. Francis students as a result of the mentoring program.
"It seemed fitting to plant a tree at Hazen White-St. Francis," says Dr. Joanna Everitt, director of the Urban and Community Studies Institute and the director of the Promise Partnership Program at UNB SJ. "The Student Mentoring Program was launched here in 2010 and has been an overwhelming success, and will continue to help children grow in the future."
In addition to providing academic support to hundreds of local youth, the Promise Partnership also offers the chance for UNB students to volunteer.
"Getting involved in our wider Saint John community is very beneficial for UNB students," says Dr. Petra Hauf, vice-president UNB Saint John. "It provides them with meaningful hands-on learning, and volunteer and personal growth experiences which will serve them long after they have graduated university."
UNB Saint John's Promise Partnership initiative has continued to support local youth in the community throughout the COVID-19 outbreak. Although now unable to meet in person, the mentors and tutors continue to support school students remotely to promote literacy and continued learning.
"It's been very rewarding to reflect on the last 10 years and see how much the Promise Partnership has grown over the last decade," adds Dr. Everitt. "We appreciate the ongoing support from donors, the commitment from the UNB student volunteers and the enthusiasm shown by our community partners and mentees. We want to say thank you to everyone who has supported Promise Partnership over the last ten years."
"UNB is immensely proud of the Promise Partnership and we value our strong links with the Saint John community," says Dr. Paul Mazerolle, UNB president and vice-chancellor. "The feedback we receive from former participants and current students highlights the important work the initiative undertakes. We are excited to see how it will grow in the future."
Media contact: Fiona Hendrie
Photo: A tree-planting ceremony, held in October at Hazen White-St. Francis School, marks the 10th anniversary of the UNB Saint John Promise Partnership and honour those who support the program. Credit: Rob Blanchard/UNB