UNB, NBCC host leaders in mental health nursing education summit
Author: UNB Newsroom
Posted on Nov 30, 2020
Category: myUNB , UNB Fredericton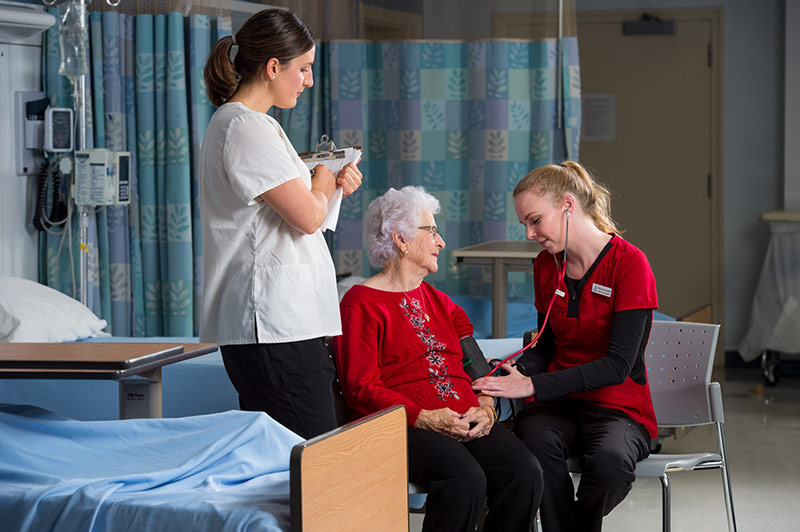 The University of New Brunswick's (UNB) faculty of nursing and New Brunswick Community College (NBCC) are co-hosting a virtual Leaders in Mental Health Nursing education summit on Monday, Nov. 30.
The summit, which is funded by the Government of New Brunswick Nursing Resource Strategy, will determine the New Brunswick context of mental health care, the needs across the lifespan and the areas for inclusion in a mental health curriculum. It aims to create a health care human resource education strategy with an actionable pathway to address the shortage of RNs in mental health and addictions in New Brunswick.
The day following the summit, educators from UNB Nursing and NBCC will come together to develop a curriculum plan in response to the information collected.
Dr. W. Dean Care, from the University of Brandon, Manitoba, will be the guest speaker and facilitator of the summit. Dr. Care has steered nursing education programs leading to licensure for Registered Nurses and Registered Psychiatric Nurses.
Participants in the summit will include various mental health professionals from across the province, such as Capital Region Mental Health and Addiction Association, the Government of New Brunswick's (GNB) department of health, Fredericton Downtown Community Health Centre, GNB's department of social development, Corrections Canada, Nurses Association of New Brunswick, various long-term care facilities, the Multicultural Association of Fredericton, New Brunswick Licensed Practical Nurses Association and the Université de Moncton, among others.
Quotes
"UNB is committed to understanding the mental health care needs of New Brunswickers all across the lifespan, and how we can best address these needs through responsive educational programs. We believe that it's important to work together with our partners to share experiences of innovative and impactful program design. These collaborations are indeed essential to move our society forward." - Dr. Paul Mazerolle, President and Vice Chancellor of UNB
"Bringing together the collective leadership of post-secondary institutions and front-line service providers is a huge step in the right direction as we develop responsive curricula to build a better mental health care system in New Brunswick. By working together, we can transform lives and communities." - Mary Butler, President and CEO of NBCC
"Mental health care is changing faster than the health care system can manage. The impact of daily stressors on people's lives, our aging population at risk for dementia or Alzheimer, substance use, violence and other trauma related experiences. These are global problems, but they are also our reality. We are grateful for the partnership with NBCC and our community partners to create a New Brunswick approach to mental health nursing that not only serves our province but the world." - Dr. Lorna Butler, Dean of Nursing, UNB Fredericton
"As the mental health care needs of New Brunswickers evolve, it's so important to forge these partnerships that allow the voices of those who most feel the impact to be heard. It's exciting to be part of this made-in-New Brunswick response that will move us forward in addressing the gaps in our mental health care system." - Ray Hubble, Dean, Health and Wellness, NBCC
About UNB
The University of New Brunswick is Canada's oldest English-language university. Founded in 1785, the multi-campus institution has a rich history and a dynamic focus on innovation, experiential learning and entrepreneurship. UNB has more than 10,500 students from nearly 100 countries while several thousand more take UNB courses online and at partner institutions around the world.
About NBCC
With six campuses across New Brunswick, NBCC contributes to New Brunswick's social and economic prosperity by supporting the aspirations of individual learners, seizing the opportunities of the labour market, and collaboratively solving the challenges of communities and industry. In addition to more than 90 certificate and diploma programs, NBCC also provides specialized and customized training to meet the needs of specific sectors and communities.
Media contacts
Angie Deveau, Communications Officer, University of New Brunswick, (506) 458-7925, Angie.Deveau@unb.ca 
Tanya Greer, Coordinator of Strategic Communications, New Brunswick Community College, (506) 440-9105, Tanya.Greer@nbcc.ca 
Photo credit: UNB Media Services