Michael Marin appointed dean of law at UNB Fredericton
Author: UNB Newsroom
Posted on Nov 24, 2020
Category: myUNB , UNB Fredericton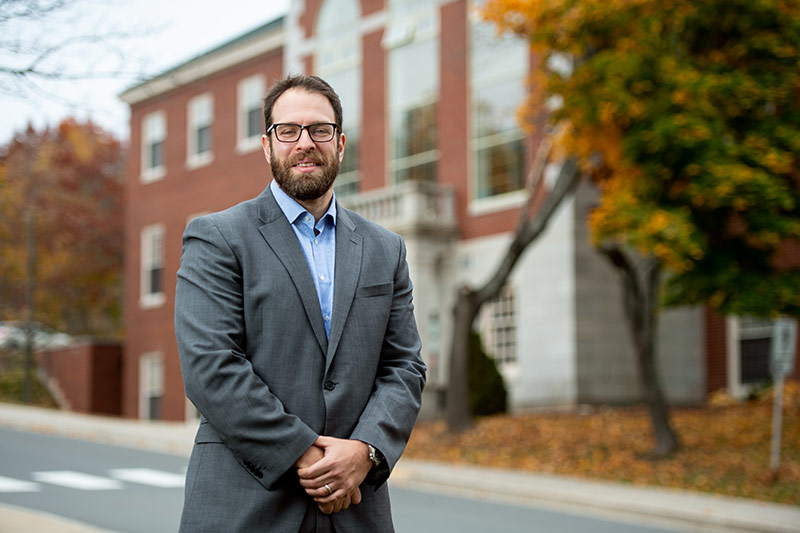 Michael Marin has been named dean of UNB's faculty of law.
Professor Marin joined the law school in July 2016, after four years at the University of Ottawa, where he was a full-time professor and founding academic director of the Business Law Clinic. In 2018, he was appointed associate dean of UNB Law, and in July 2020 he took on the role of acting dean.
Professor Marin has assumed major leadership roles at UNB Law, including leading the development of its academic vision, a blueprint for UNB Law's revitalization that was unanimously supported by the faculty, the Fredericton Senate and the University's Board of Governors.
"The future of UNB Law is an ambitious one, focused on excellence in teaching, research, and student services," Professor Marin said. "I'm very pleased that our faculty has recommitted to the values that saw UNB Law emerge as a top national law school in the 1990s – small class sizes, a professional relevant curriculum, personal attention to our students, and a collegial learning environment – while recognizing the need to innovate in areas that will enhance our reputation."
As dean, Professor Marin is eager to begin the implementation of UNB Law's new academic vision. Over the coming year, he will focus on engaging the faculty's key stakeholders in the roll out of the plan, which features new programs and upgrades to UNB Law's facilities. Specific initiatives include the launch of a new legal clinic, a graduate program and an intensive term.
"We are delighted that Mike will be taking on this leadership role, building on his previous accomplishments in the Dean's Office," said Dr. George MacLean, vice-president academic (Fredericton). "His integrity and ability to build consensus will be invaluable as law moves ahead on its exciting vision for the future."
Professor Marin is a vice-chair of the New Brunswick Workers' Compensation Appeals Tribunal and member of the Atlantic Regional Committee of the Supreme Court Advocacy Institute. His teaching and research interests include corporate governance, administrative law, and torts. Professor Marin is a member of the New York Bar, the Law Society of Ontario, and the Law Society of New Brunswick. He holds a law degree from the University of Ottawa, an MA in public policy from Carleton University, and an LLM from the University of Cambridge, where he studied as a Gates Scholar.
Before entering academia, Professor Marin practiced corporate and commercial litigation at an international law firm in New York City and clerked at the Supreme Court of Canada for the Hon. Ian Binnie. In 2011-12, he was a Fellow of Action Canada, a program that supports the development of Canada's emerging public policy leaders.
His five-year term begins on July 1, 2021.
Media contact: Kelsey Pye
Photo credit: UNB Media Services