University of New Brunswick professor elected to the Royal Society of Canada
Author: UNB Newsroom
Posted on Oct 27, 2020
Category: UNB Fredericton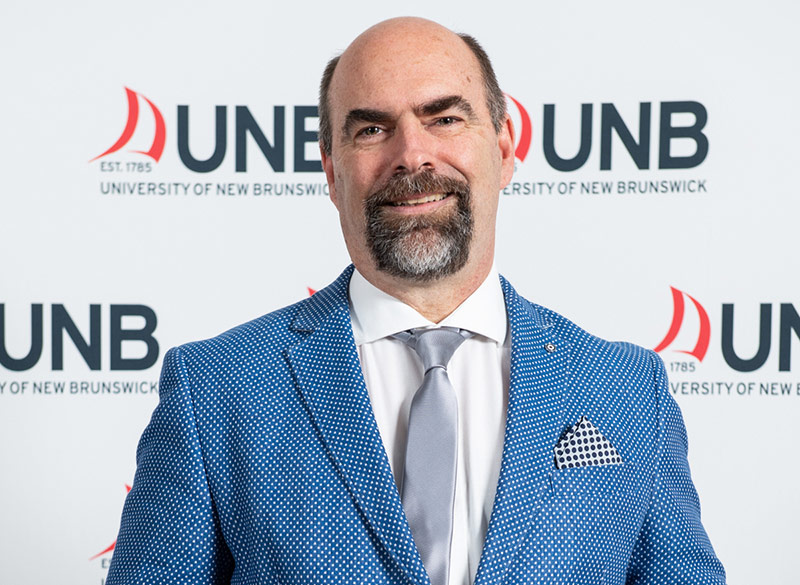 The University of New Brunswick's Dr. Gary Waite has been elected to the Royal Society of Canada (RSC), the senior national, bilingual council of distinguished Canadian scholars, humanists, scientists and artists.
Currently the acting chair of the history and classics departments in UNB Fredericton's faculty of arts, Dr. Waite joins 86 others as new Fellows in the Academies of Arts and Humanities, Social Sciences, and Science, announced by the RSC in September.
"I am deeply honoured to have been elected a Fellow of the Royal Society of Canada, knowing that this was an acknowledgement of the impact of my research in the international scholarly community and the degree to which it is esteemed by prominent Canadian scholars across the disciplines in the arts and humanities," says Dr. Waite. "I am thankful to have been nominated by my colleagues of the faculty of arts and appreciative of the support of the international scholars who wrote on my behalf."
Dr. Waite is an internationally renowned historian of early modern Netherlandic and European religion and culture. His numerous publications have shaped scholarly discourse on the Reformation's radical reformers, on demonizing polemics, demonology and witchcraft, on dissident ideas, and on relations between Muslims, Jews and Christians. His research is well known for illuminating unexpected connections between historical developments generally understood in isolation.
He is currently the principal investigator of an international team exploring how ideas were formed, contested, and reshaped in the polemical atmosphere of early modern Europe. In 2015, the Social Sciences and Humanities Research Council of Canada (SSHRC) History Assessment Committee ranked this application first among 109 applications.
As part of his first SSHRC-sponsored project in 1988, Dr. Waite examined the role of the Netherland's literary and drama societies in propagating reform ideas in the early 16th century. It resulted in the first English-language book on the subject, which was well received by scholars, and led to collaboration with Dutch and Flemish research grant bodies. Subsequent SSHRC-supported research has led to monographs revealing how the demonizing rhetoric of the Reformation conflicts helped revive witch-hunting, and on how 17th-century Dutch writers, inspired by their government's allowance of religious diversity, viewed Jews and Muslims more positively than their English counterparts.
"I have thoroughly enjoyed my research and writing career, and have been bolstered by the response to my research in the international community of early modern historians," says Dr. Waite.
"The Royal Society of Canada is delighted to recognise this year's exceptional cohort of inductees, as the contributions of these outstanding artists, scholars and scientists have significantly impacted their respective disciplines at both national and international levels," says RSC President Jeremy McNeil.
Dr. Waite strongly believes in collaborative research. He has partnered with the international Early Modern Religious Dissents and Radicalism research group and founded a scholarly network devoted to the history of early-modern spiritualism. He also created the interdisciplinary Atlantic Medieval and Early Modern Group for scholars in his region.
"It is vital for us to appreciate and celebrate the research of those in the arts and humanities, and I would naturally emphasize the study of history, which continues to be of enormous relevance today," says Dr. Waite. "My own research into why Europeans developed and propagated demonic conspiracy theories in the early modern period, which led to the death of thousands, has suddenly become of great significance now, with the revival of many of those very same beliefs and prejudices, all dressed up for a 21st century audience."
Members of the incoming class will be invited to accept membership to the Royal Society of Canada in an event on Friday, Nov. 27. The ceremonies will be adapted to ensure all new members will participate – whether from home, from campus, or in Toronto.
Founded in 1882, the RSC comprises the Academies of Arts, Humanities and Sciences, and The College of New Scholars, Artists and Scientists. The RSC recognizes excellence, advises the government and the larger society, and promotes a culture of knowledge and innovation in Canada and with other national academies around the world.
Media contact: Kelsey Pye
Photo credit: Rob Blanchard/UNB