JDI Roundtable moves online, facilitating greater access
Author: UNB Newsroom
Posted on Oct 28, 2020
Category: UNB Fredericton , UNB Saint John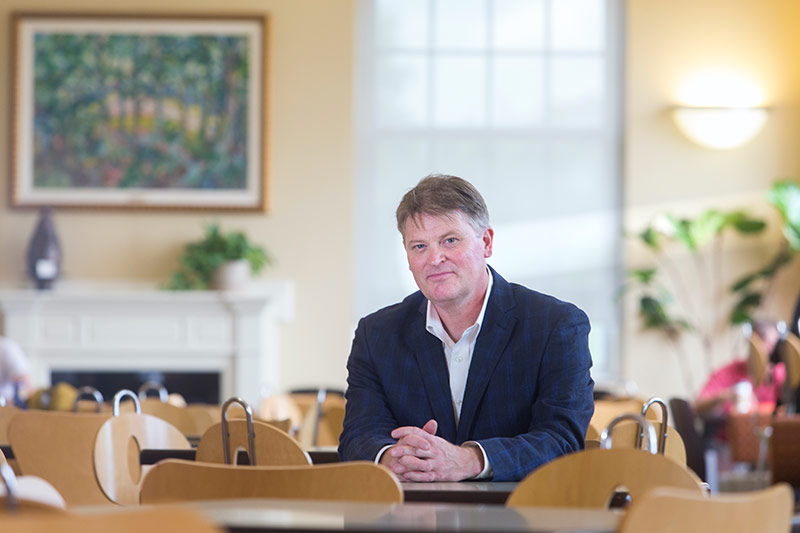 Spurred by necessity and opportunity, the 2020 JDI Roundtable on Manufacturing Competitiveness in New Brunswick Forum will be a transformed experience.
Due to the COVID-19 pandemic and necessary restrictions on gatherings, and seizing an opportunity to open the Forum to even more stakeholders across the province, the 2020 Forum has shifted from an in-person event to a series of webinars.
Through this transformation, the goal of the Forum remains the same: to share the latest research and to engage decision makers, manufacturing leaders and other key stakeholders in finding actions to improve the competitiveness of New Brunswick manufacturers.
"Last year, we were able to put manufacturing competitiveness front and centre for decision makers and stakeholders and develop broad strokes recommendations," said Dr. Herb Emery, the University of New Brunswick's Vaughan Chair in Regional Economics and chair of the JDI Roundtable Program. "This year, we are focusing on the development of information and metrics to guide policy around technological development and reduced regulatory burden."
Four webinars will be included in this year's series, taking place on Thursday or Friday afternoons at 2 p.m. AST between Oct. 30 and Dec. 10.
On Oct. 30, Robert Falconer, a research associate in Immigration and Refugee Policy at the University of Calgary, will deliver the first webinar, "Product of Canada? Trends in Food Production and Domestic Employment." He will examine how the Atlantic Canadian agricultural industry is handling labour supply challenges and will discuss the long-term viability of this sector.
"The long-term issue facing Canadian food production is the loss of family members working onsite," said Mr. Falconer. "Addressing the labour shortage in this sector also means addressing the long-term viability of existing farms and other food production facilities."
On Nov. 6, Dr. Andrew Sharpe, executive director of Centre for the Study of Living Standards, will present "Innovation and Productivity in New Brunswick: Trends, Linkages and Policy Directions," where he will explore the three component themes in a New Brunswick context.
"As an economist, I rely on a data-driven approach to paint a picture of innovation in New Brunswick separate from individual experiences," said Dr. Sharpe. "Using a variety of indicators, with particular attention to R&D, we can better understand the factors at play in the province's historically weak innovation performance and the links between innovation and productivity."
Both webinars will include a discussion of public policy directions related to the topics.
Full details and sign up information are available unb.ca/roundtable. The 2020 JDI Roundtable webinars are free to attend, though registration is required.
Two additional webinars will take place on Nov. 27, exploring the technological maturity of the manufacturing sector, and Dec. 10, with a focus on manufacturing competitiveness as a strategy for post-COVID economic recovery. Speakers and registration information will be made available on the JDI Roundtable website at a future date.
The JDI Roundtable on Manufacturing Competitiveness in New Brunswick is a public-facing initiative for delivering timely, relevant research about the province's manufacturing sector to a broad audience that includes the public, the private sector and government. The research is led by Dr. Herb Emery.
This independent research program is made possible through the generosity of J.D. Irving, Ltd. The funding supports arm's-length research conducted at UNB.
Media contact: Jeremy Elder-Jubelin
Photo: Dr. Herb Emery. Credit: James West