UNB Makerspace partners with NB Power to 3D-print COVID-19 relief materials
Author: UNB Newsroom
Posted on Jun 24, 2020
Category: UNB Fredericton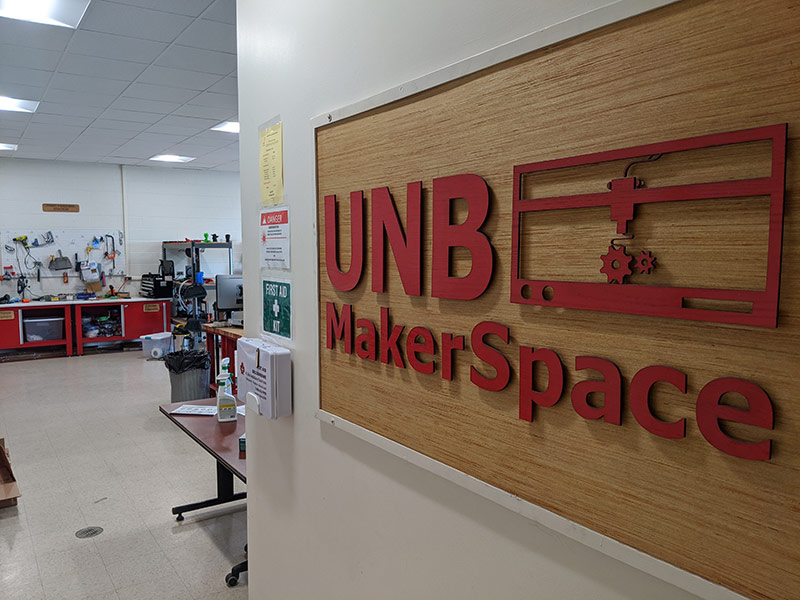 NB Power and UNB are no strangers to working together on innovative and impactful projects. The Emera & NB Power Research Centre for Smart-Grid Technologies was formed in 2017 to create synergies and research partnerships, and the Smart Grid Innovation Network has been a collaboration with the two partners, along with others, since 2016.
The team at NB Power work hard every day to keep the lights on for New Brunswickers and the COVID-19 pandemic period is no different. So, when NB Power approached UNB's faculty of engineering about collaborating to produce 3D-printed ear savers and hard hat clips to enhance protection and comfort for their staff during the COVID-19 pandemic, the faculty jumped at the opportunity to help. Ear savers make wearing face masks more comfortable and hard hat clips help attach COVID-19 face shields to hard hats.
The UNB Makerspace, located in the faculty of engineering, is meant to provide experiential learning to undergraduates on the Fredericton campus. It's a workshop and design studio together in one inclusive and supportive space so that makers can share ideas and techniques and create prototypes or projects. The Makerspace has high-quality 3D printers, a laser cutter and a huge selection of electronic devices, parts and tools.
Rob Moss, operations engineer in the faculty, says two UNB engineering students are employed for the summer in the Makerspace and are currently printing ear savers and hard hat clips.
"We've exceeded 3,000 pieces for NB Power so far and will be producing another 1,000 for them this week," he says.
NB Power is supplying the filament along with funding to employ the students in the Makerspace for the project. Filament is the material that is fed into the 3D printer used to create the ear savers and hard hat clips. Members of NB Power's Digital Technology Innovation team saw the opportunity help fulfill the need for COVID-19 relief supplies using 3D printing, and the chance to partner with UNB to utilize the Makerspace and have students involved made it a real win-win.
The project has been so successful that the faculty of engineering is now reaching out to other organizations in the community to offer the Makerspace and the students' expertise to produce ear savers for their staff as well. Mr. Moss is optimistic that they can find more partners who will help them fund the resources required to produce more ear savers – which greatly improve the comfort of front-line workers who wear masks all day – to anyone who needs it.
"We're very interested in helping our community work safely and more comfortably through the pandemic."
As a way to show appreciation for the help from the Makerspace, NB Power has offered to pay it forward and contribute enough 3D-printing filament for up to 5,000 ear savers for non-profit organizations working on the front lines in New Brunswick who are looking to provide them to their staff.
For more information or if you're interested in partnering with UNB's Makerspace, contact Rob Moss at robert.moss@unb.ca.