University of New Brunswick removes George Duncan Ludlow's name from Faculty of Law Building
Author: UNB Newsroom
Posted on May 26, 2020
Category: UNB Fredericton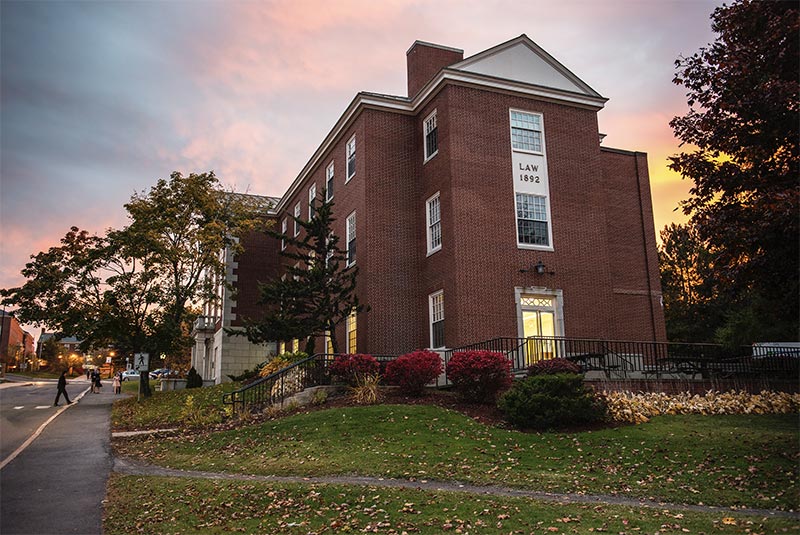 The University of New Brunswick has removed George Duncan Ludlow's name from the faculty of law building on its Fredericton campus.
With many of UNB's buildings and other spaces named after historical and contemporary leaders, conversations surrounding named places are happening within the UNB community, as they are at many universities across North America.
Last year, UNB students, faculty, staff and members of the public raised concerns regarding the name of Ludlow Hall and George Duncan Ludlow's involvement in residential schools and views on slavery.
In December 2019, UNB President and Vice-Chancellor Dr. Paul Mazerolle set up the Working Group on the Principles of Naming or Renaming University Places to review policies and procedures related to naming or renaming university places, and to investigate named spaces on UNB's two campuses, beginning with Ludlow Hall.
The Working Group delivered its Phase One recommendations regarding the naming of the faculty of law building, Ludlow Hall, to Dr. Mazerolle in April 2020.
"I'm pleased to announce that the group's examination and subsequent recommendations were approved today by UNB's Board of Governors," says Dr. Mazerolle.
The Working Group's approved recommendations include:
Effective immediately, the Ludlow name will be removed from the faculty of law building.
A permanent display which explores Ludlow's history with slavery and Indigenous schooling in early New Brunswick will be installed within the faculty of law building. This exhibit will also explain why George Duncan Ludlow's name was removed from the building.
When it becomes possible, UNB will hold an educational event to share what the university has learned through the exploration of these historical issues, furthering UNB's path to Truth and Reconciliation by encouraging scholarship on the African-Canadian and Indigenous history of New Brunswick.
"The Working Group's Phase One recommendations were based on thorough research and discussion," says Dr. Mazerolle. "They were based on targeted consultation with academic and community groups and written submissions from members of the UNB community and greater public, historical research on George Duncan Ludlow, and an examination of information pertaining to Ludlow Hall's naming in 1968."
The Working Group continues its work in the review of named places at UNB. Phase Two of their work will result in recommendations to improve the university's policies and principles to consider any necessary changes that will guide UNB's naming practices going forward.
"I am greatly appreciative of the work undertaken by the Working Group," says Dr. Mazerolle. "It is also important to acknowledge and thank those who offered their time in consulting with us during this process, including those who offered their views and opinions.
"By acting on the concerns raised by many members of our community, UNB is delivering on its commitment to truth and reconciliation as well as toward building a more equitable, diverse and inclusive institution."
Media contact: Sonya Gilks, 506-440-0859 (c)
Photo: The faculty of law building on UNB's Fredericton campus. Credit: Photo UNB