Two UNB athletes named CCAA Academic All-Canadians
Author: UNB Newsroom
Posted on May 22, 2020
Category: UNB Saint John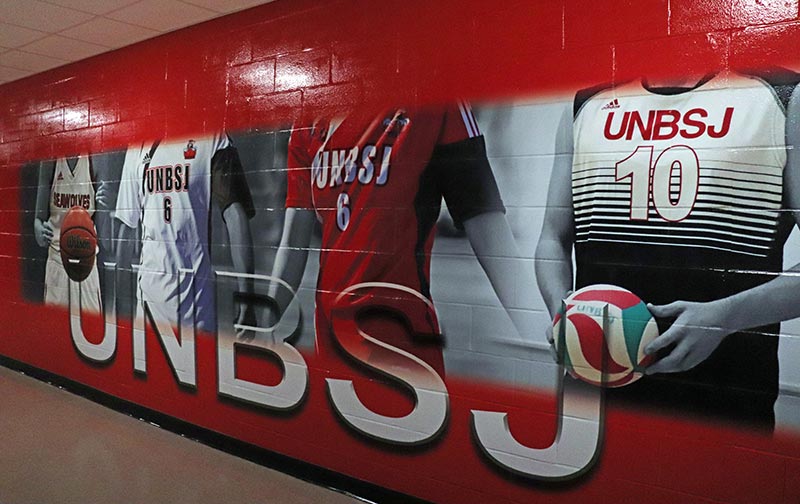 Two student-athletes from the University of New Brunswick's Saint John campus have been announced as 2019-20 Canadian Collegiate Athletic Association (CCAA) Academic All-Canadians.
Dayna Alexander and Logan Perry received the award with 191 other student-athletes across the country. The recipients have achieved combined excellence in collegiate athletics and academics. Ms. Alexander is a member of the women's volleyball team, while Mr. Perry plays on the men's soccer team. Both squads play in the Atlantic Collegiate Athletics Association (ACAA).
"Growing up, playing competitive sports for various teams has always kept me on track and helped me to prioritize, both in academics and other extracurriculars," says Ms. Alexander. "When I had the opportunity to play volleyball at the ACAA level, I had no idea how much more of an influence it would have on my academics. Not only does sport help me to stay organized and manage my time wisely, but it serves as an outlet for stress."
"Participation in college sport helps to build a strong work ethic and important time-management skills," says Mr. Perry. "You not only develop your physical presence and athletic skills but a sense of drive to set goals and achieve them. You need to be well organized, goal centered and hard-working."
"Dayna and Luke set high standards for the other student-athletes at UNB Saint John," says David Munro, UNB Saint John's athletics director. "The work ethic, attitude, sportsmanship and joy they demonstrated was an inspiration to teammates and all who watched them. They achieved great things academically and in their sport."
The CCAA Academic All-Canadian award is the CCAA's most prestigious student-athlete honour. The full list of recipients is available at ccaa.ca.
Media contact: Kelsey Pye