UNB's Promise Partnership continues to support local schoolchildren
Author: UNB Newsroom
Posted on Apr 23, 2020
Category: UNB Saint John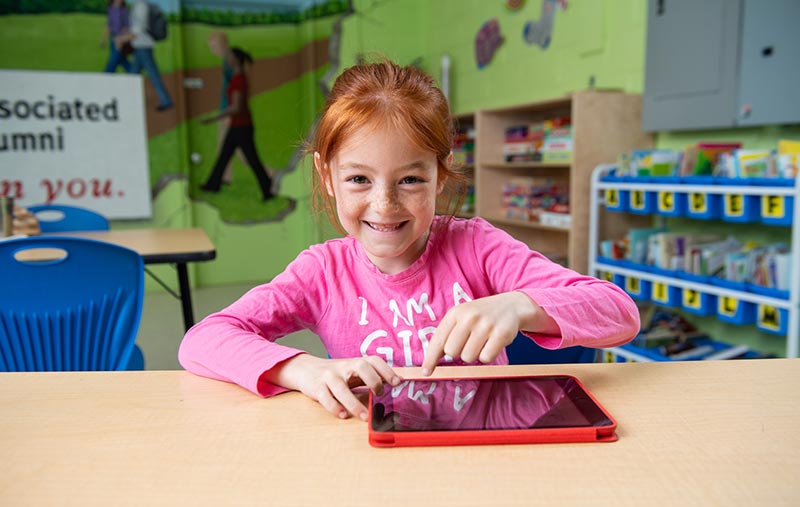 UNB Saint John's Promise Partnership initiative has continued to support local youth in the community throughout the COVID-19 outbreak.
The Promise Partnership runs an ongoing program that pairs children from Hazen White-St. Francis School with UNB volunteers to provide educational support through structured literacy activities. Although now unable to meet in person, the mentors continue to support the students at the school by sending them photos, encouraging words, and letters promoting literacy and continued learning.
The Promise Partnership is also supporting student distance learning at the school by providing students with access to online learning platform Raz Kids, by funding the school's membership accounts.
"We usually use the books from this program in the mentoring room," says Sara Thurlow, Promise Partnership program coordinator. "Ordinarily we would have the books all printed out and organized in bins by reading level and mentors are given the student's reading level so they know which bin to pick books from that are the best fit for the students they are working with."
With classes now cancelled, children are able to access the guided reading platform remotely, helping them to continue their learning at whilst at home.
"Mental health and student well-being are top priorities at this time," says Dr. Joanna Everitt, political science professor at UNB Saint John and instructor for the service learning course which has volunteering with the Promise Partnership built into its course requirements. "Unfortunately, with the abrupt change from face-to-face classes and the closure of the elementary and high schools in New Brunswick, many of our volunteers didn't have the opportunity to say goodbye to their mentees for the summer."
To give them this chance for closure, and to maintain volunteers' moral, the initiative has recently launched a Facebook competition asking them to share meaningful stories from their mentoring experience. The competition will run over the summer with prizes for the best stories.
"It's a way to share smiles and laughs during these troubled times," adds Dr. Everitt.
Media contact: Fiona Hendrie