UNB students win big at Atlantic Engineering Competition
Author: UNB Newsroom
Posted on Mar 2, 2020
Category: UNB Fredericton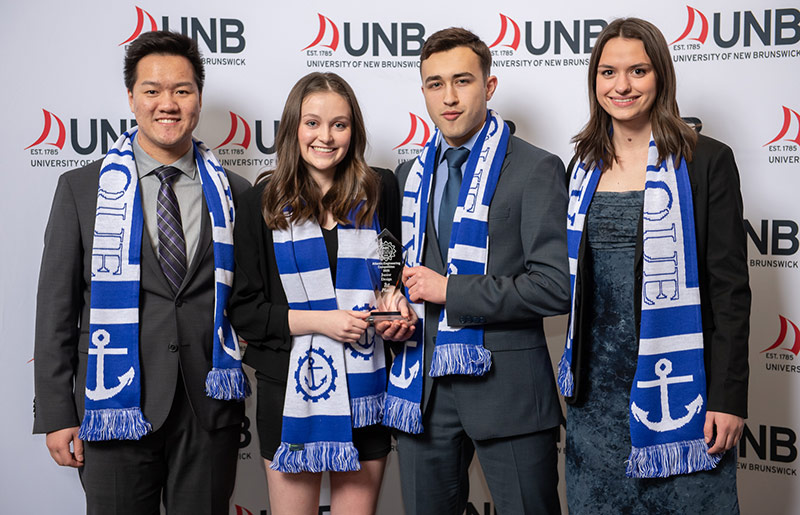 Students from the University of New Brunswick recently competed and took home first and second place prizes in the 2020 Atlantic Engineering Competition (AEC).
This year's competition, which was hosted by UNB Fredericton from Jan. 23 to 26, brought together engineering students from 12 Atlantic Canadian universities to compete in a variety of technical competitions. During the event, attendees had the opportunity to improve upon their technical competency and test their communication skills, while networking with industry sponsors.
Founded in 1983, the AEC is an annual, student-run initiative that is one of the largest engineering competitions in Canada. The AEC features eight competition categories, which include junior design, senior design, innovative design, re-engineering, consulting, engineering communications, parliamentary debate and programming. For each category, participants competed in teams of one to four, testing their innovation, problem-solving and leadership skills.
Teams who place first or second in their respective categories will advance to the Canadian Engineering Competition (CEC). In the last two years, UNB has won the programming category at AEC and CEC consecutively.
UNB student winners include first place in the junior design category: Anna Postill, Madeline Baxter, Moneeb Elbakali Kassimi and Oliver Sun; first place in the programming category: Shivam Sabbarwal, Seth Schilbe, Danny McCardle and Mackenzie Toner; second place, also in the programming category: Ben Myles, Evan Fitzgerald, Greg Kean, and Jakob Roberts; and second place in the debate category: Keeley Shea and William Burmeister.
"The Atlantic Engineering Competition was an exciting experience," said Ms. Postill, who is also a Schulich Leader Scholarship winner. "The competition challenged me to apply the critical thinking and problem-solving skills that I am learning in my chemical engineering degree. Within my team, we had to think critically about our design process to ensure optimum functionality and cost. I learned a lot about design engineering and had a great time doing so."
"It was an amazing experience hosting over 150 student leaders from across Atlantic Canada at the Atlantic Engineering Competition," said Lucas Hallett, AEC Chair, UNB civil engineering student and Sir Howard Douglas Scholar. "The AEC provides students with the unique opportunity to develop solutions to real life engineering problems. Additionally, it allows them to make meaningful and lasting connections with many other motivated young leaders who share the same passion."
Media contact: Angie Deveau
Photo: UNB students Oliver Sun, Anna Postill, Moneeb Elbakali Kassimi and Madeline Baxter. Credit: Jeff Crawford/UNB.