UNB nursing students promote healthy eating to Saint John schoolchildren
Author: UNB Newsroom
Posted on Mar 10, 2020
Category: UNB Saint John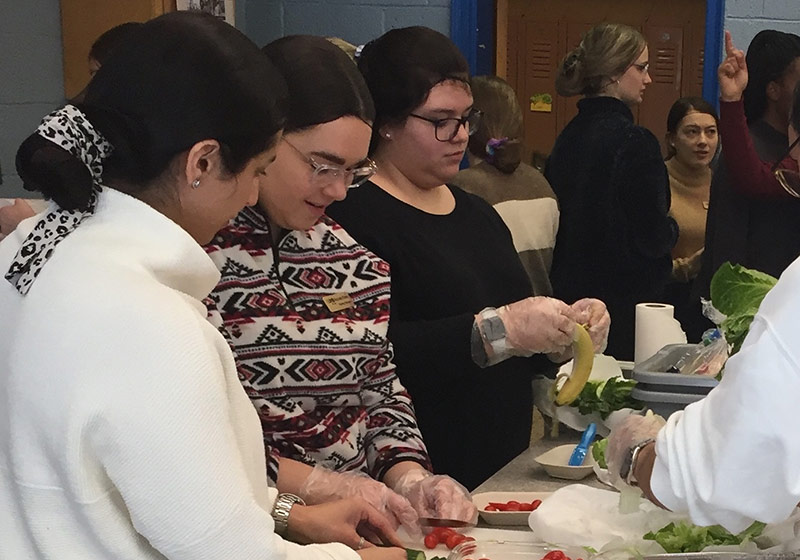 Nursing students from the University of New Brunswick recently led a healthy eating Lunch and Learn session for 153 children at Hazen White-St. Francis School, as part of the Promise Partnership.
Earlier this year, the 50 first-year UNB students presented recommendations and advice from Canada's Food Guide to the children, their teachers and parents.
Groups of students were assigned a class from kindergarten to Grade 5, for whom they developed an age-appropriate lesson plan to teach them about healthy eating and food preparation.
"Healthy eating is important at all stages of life, but for young children it makes a big difference to their growth and development," says Dr. Rose McCloskey, professor of nursing and health sciences at UNB Saint John. "The children were very excited by the lessons and we were delighted to see a lot of parents taking part too."
Following their presentations, nursing students helped prepare a healthy lunch of pitas and yogurt parfait. All the food was provided by Hazen White-St. Francis School's nutrition fund.
"Some of our nursing students were nervous at first but the enthusiasm of the children and teachers helped put them at ease," says Dr. McCloskey. "Educating others about health is something our students will do throughout their nursing careers and opportunities like this allow them to develop the skills they need to do so."
The Lunch and Learn program was organized as part of UNB Saint John's Promise Partnership initiative. Launched in 2010, the Promise Partnership connects the university with the community to help combat poverty by providing educational support and opportunities to youth in two of Saint John's priority neighbourhoods.
One of the Promise Partnership's ongoing programs is the Student Mentoring Program, which pairs UNB Saint John student volunteers with children from kindergarten to Grade 5 at Hazen White-St. Francis School.
"As the Promise Partnership approaches its 10-year anniversary, it is a wonderful opportunity to reflect on the partnerships that have been developed over the years," says Dr. Joanna Everitt, political science professor at UNB Saint John. "We are delighted to have such a strong link with Hazen White-St. Francis School and always receive a great response from the children and teachers."
Media contact: Fiona Hendrie