UNB economists plan public forum on evidence-based policy
Author: UNB Newsroom
Posted on Feb 7, 2020
Category: UNB Fredericton , myUNB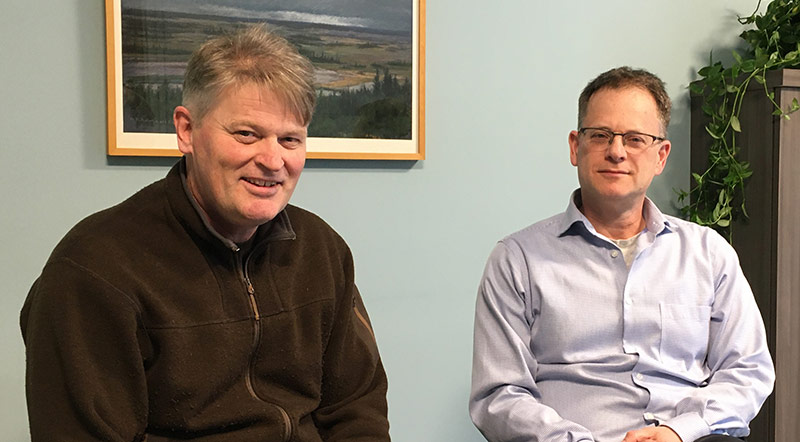 Two economists at the University of New Brunswick want New Brunswickers to start asking tougher questions about how and why policy decisions are made New Brunswick.
Dr. Herb Emery, the Vaughan Chair in Regional Economics and program director of the Atlantic Institute for Policy Research, and Dr. Ted McDonald, the founding director of the New Brunswick Institute for Data, Research and Training (NB-IRDT) are hosting a panel discussion on Feb.19, 2020, on the topic of evidence-informed decision-making in New Brunswick.
"Debates about policy issues regularly play out in the public sphere. Whether it's compulsory vaccination, glyphosate use, or rationalization of health services, these issues really give rise to some heated discussions," says Dr. Emery.
"So much of the debate is framed by the loudest voices, not necessarily the most reasoned or informed," says Dr. Emery. "We want to have a discussion about what evidence-informed decision-making is and how New Brunswickers can apply an evidence-informed lens to analyzing the issues of the day."
Dr. McDonald's work at the NB-IRDT often finds its way into the hands of the people crafting New Brunswick policy.
"We are the population data researchers for New Brunswick. We're able to look into areas like healthcare, immigration and education to find out what's going on from actual objective data," he says.
"The ability to link datasets and get really rich information for decision-making is relatively new," says Dr. McDonald. "Until the last decade, the art and science of policymaking has been mostly art. We're gradually building up the scientific capacity to effectively use the data for good decision-making.
"The era of data science in decision-making has arrived," says Dr. McDonald. "But are we ready for it? And how can we better help citizens understand the data and what it signifies?"
Dr. Emery and Dr. McDonald will be joined on the panel by Karen White-Masry, an 18-year veteran policy maker and president of Avise Consulting, and journalist and well-known author Lisa Hrabluk, who has extensive experience engaging the public on contentious policy issues.
"Lisa and Karen bring a different perspective to the panel. Karen is both a scientist and a policy expert while Lisa has decades of experiencing observing, reporting, and soliciting input from the public on policy questions," says Dr. Emery. "They have an extremely valuable perspective to offer, particularly on the challenges related to evidence-based policy and public acceptance."
The public are invited to attend the panel discussion, entitled "Can Science Save New Brunswick," on Feb. 19, 2020, from 7 - 9 p.m. at the Tom Morrison Theatre (Fredericton High School) in Fredericton. Rogers Television will be broadcasting the event.
Media contact: Mara Mallory