2021-22 Schulich Scholars Announced
Author: Development and Donor Relations
Posted on Sep 23, 2021
Category: Scholarships and Bursaries , News and Events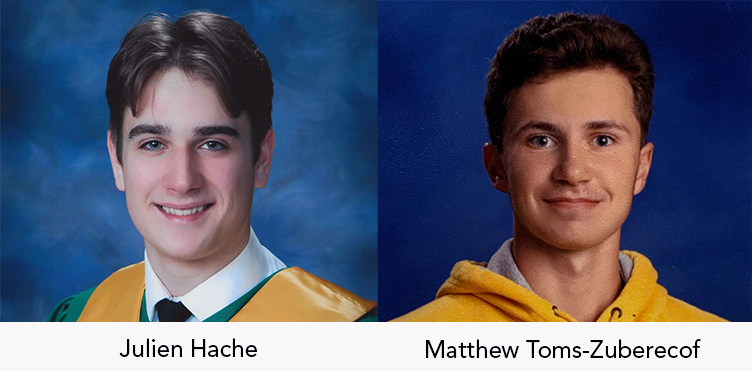 ---
Matthew Toms-Zuberec and Julien Haché have been named The University of New Brunswick's recipients of the prestigious Schulich Leader Scholarship for 2021-22.
Schulich Leaders represent the most promising entrepreneurial-minded STEM students in the country. Each year, 50 Schulich Leaders are selected from a pool of 350,000 potential candidates across Canada. The Schulich Foundation, which funds the Scholarship, has increased the total number of awards to 100 for the past two years, in recognition of extraordinary challenges faced by students in 2020 and 2021.
Julien Haché is a recipient of the $100,000 Schulich Leader Scholarship. A graduate of James M. Hill Memorial High School in Miramichi, N.B., Haché entered the bachelor of science in engineering program this fall. He was selected for his outstanding academic and extra-curricular achievements, including his role of co-captain of his high school's hockey team and the co-founding Print-ER, a company that manufactures sustainable 3D printers.
Matthew Toms-Zuberec has received the $80,000 Schulich Leader Scholarship. A graduate of Notre Dame High School in Calgary, Alberta, Toms-Zuberec began the bachelor of science program this September. Toms-Zuberec was selected for outstanding achievements, including a COVID-19 Tracker and leadership of the robotics projects for his high school engineering class.
"We are proud to celebrate 10 years of Schulich Leader Scholarships, the premiere STEM scholarship program in Canada and the world," says program founder Seymour Schulich. "This group of 100 outstanding students will represent the best and brightest Canada has to offer and will make great contributions to society, both on a national and global scale. With their university expenses covered, they can focus their time on their studies, research projects, extracurriculars, and entrepreneurial ventures. They are the next generation of entrepreneurial-minded, technology innovators."
Know someone in grade 12 this year? Learn more about the Schulich Leader Scholarship and other awards at UNB.