There's no place like home to provide nursing care
Author: Development and Donor Relations
Posted on May 13, 2021
Category: Scholarships and Bursaries , News and Events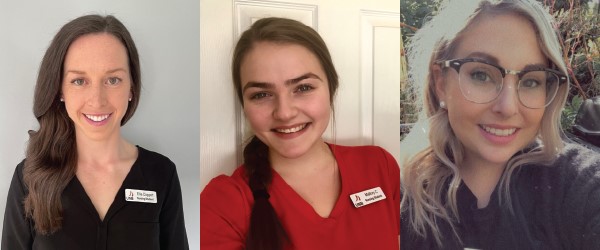 ---
Pictured, from left, are Ellie Doggett, Mallory Crossley and Rebecca Lyons. Photo: Submitted
Mallory Crossley always knew that she wanted to be a nurse. From a tender age, the University of New Brunswick Fredericton campus student had a strong desire to help others and was drawn to the caring profession.  
"My decision to do nursing was solidified when my grandmother was ill," says Mallory. "I watched first-hand how nurses can impact people's lives and help them through the worst and best days." 
The world of nursing has provided Mallory with a variety of experiences and has allowed her to support people through the various stages of their health care journey.  
"I have cared for people that are first-time parents with their day-old baby, rehab patients that learned how to walk again and I have held the hand of palliative patients that are actively dying," she says. "These are some of the experiences I have had that have shown me that nursing is a good fit." 
For Advanced Standing Nursing student Ellie Doggett, this career path has offered her a diverse range of opportunities while being able to help others in a meaningful way. 
"I knew nursing was right for me when I experienced firsthand the significant impact nurses have on people's lives," she says. "Having the chance to make connections with patients and help them on their wellness journey is very rewarding." 
After experiencing how nurses can make a positive difference in the lives of their child patients, UNB Saint John student Rebecca Lyons knew she wanted to enter the field.
"When I was little, I was diagnosed with Crohn's disease and had to spend some time in the hospital," says Rebecca. "The nurses taking care of me and my family were amazing. They were so supportive, informative and friendly."
When she entered high school and was preparing for university, she reflected on that time and how she would love to work in an environment that allowed her to support others.
"This led me to becoming a licensed practical nurse and then I went back to school to become a registered nurse," she said.
All three women demonstrated excellence in the practice of Gerontological Nursing at their respective UNB campuses in Fredericton, Moncton and Saint John and are the recipients of the 2020-21 Shannex Nursing Scholarship. Receiving the award has allowed all three students to better concentrate on their studies while easing the financial pressure of their post-secondary education.
As they prepare to write the next chapter and get closer to becoming registered nurses, they each point out how they would like to help provide care right here at home.
While Mallory hasn't decided yet what area of nursing she would like to be in, she is thrilled that a career in nursing offers such diverse opportunities. "One thing I do know is that I would like to stay within the province of New Brunswick for my career."
Create opportunities for students.