Newest Schulich Leaders find success despite pandemic
Author: Development and Donor Relations
Posted on Jan 26, 2021
Category: Scholarships and Bursaries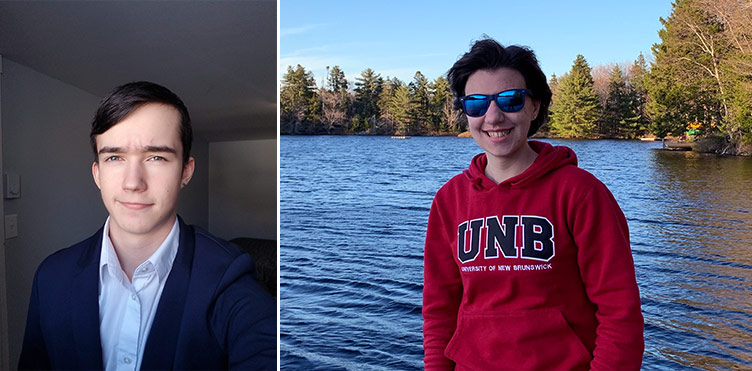 ---
UNB's newest Schulich Leaders are finding ways to succeed in a first year like no other.
Stephen White of Saint John, NB, and Jessica Dean of Bedford, NS, are the University of New Brunswick's 2020-21 recipients of the prestigious Schulich Leader Scholarships. Launched in 2012 by Canadian business leader and philanthropist Seymour Schulich, this annual scholarship program encourages promising high school graduates to embrace STEM (Science, Technology, Engineering, Mathematics) in their future careers.
With the COVID-19 pandemic changing the on-campus experience so dramatically, both Jessica and Stephen have found community and support online.
Stephen, who is enrolled in the bachelor of computer science program, is grateful for the online community established by fellow UNB computer science students on the Discord platform.
"I've met so many students of varying years," he said. "I'm very happy students organized this group – I've come to meet quite a few friends at UNB."
Likewise, Jessica, a mechanical engineering major in the bachelor of science in engineering program, has found a great sense of connection with other Schulich Leaders via Discord.
"I've established connections with great minds, both at UNB and across Canada and Israel. One thing that connects all of the Schulichs is a passion – everyone has a passion for something." She noted that the online connection was especially important during the pandemic. "We're able to support each other and grow together, even if we're all in our homes thousands of kilometres away."
Learning online
Both students have moved to Fredericton in order to be near campus, but their course loads are entirely virtual. While Jessica misses the collaborative opportunities of in-person learning, she and Stephen find that UNB's overarching sense of community is an advantage over many universities.
"My favourite thing about UNB is the atmosphere of support in the community," said Stephen. "Every single person I've met has been incredibly willing to answer questions and either provide support or point in the direction to receive support." Jessica agreed, crediting her professors with being very caring and understanding while also being engaging. "Some profs have actually made it feel like a [non-virtual] class," she said.
A highlight for both students was a rare opportunity for them to work together in their first semester, despite their differing courses of study. They were enrolled in the same enriched calculus class and collaborated on a project. "We worked really well together and had a great time," said Jessica.
Engaging community
As they move forward in their first year, both Stephen and Jessica remain active and engaged, and both credit the Schulich Leader Scholarships with providing the freedom to pursue their interests beyond the classroom.
"I have a passion for computer science," Stephen said, "but when you're too busy to work on what you want to, it can remove a lot of the fun. The freedom granted by the Schulich Leader Scholarship allots me time to work on projects I thoroughly enjoy." One of Stephen's side projects is a Discord "bot" — a program that performs automated tasks — providing up-to-date COVID-19 information for the seven health zones in New Brunswick. Every day when New Brunswick's COVID-19 data is released, the bot sends its users updated information on the number of active cases, current recovery phases, and more information broken down for various health zones.
Jessica continues to volunteer virtually with the Girl Guides of Canada and tutored younger students throughout the fall. She has joined UNB's physics and astronomy society and is excited at the prospect of becoming involved with CubeSat NB, a collaborative project designing, building, and testing New Brunswick's first cube satellite, set to be deployed from the International Space Station in 2022.
Schulich Leader Scholarships are Canada's most coveted undergraduate STEM scholarships.
Up to one hundred scholarships are awarded to entrepreneurial-minded high school graduates enrolling in a Science, Technology, Engineering or Math program at 20 partner universities across Canada. Half are valued at $100,000 for engineering scholarships and half are valued at $80,000 for science, technology, and math scholarships.
Every high school in Canada can nominate one graduating student each year to apply for the scholarship. The application deadline for the 2021 Schulich Leaders Scholarships is Jan. 27, 2021.
Learn more about the Schulich Leaders Scholarships.