90-year-old scientist paves way for future researchers
Author: Development and Donor Relations
Posted on Jan 22, 2021
Category: Donor Stories , News and Events ,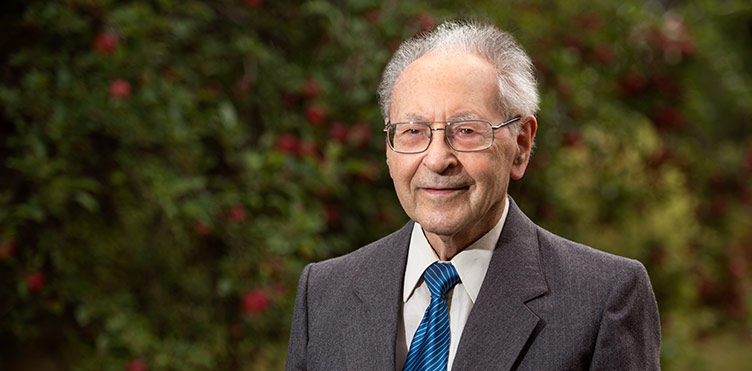 ---
When asked, Dr. Friedrich (Fritz) Grein will concede that he is a "good researcher." His extraordinary record shows that "good" is an understatement.
Professor Emeritus in the department of chemistry, Dr. Grein remains an active researcher after 60 years with the University of New Brunswick. Having generously established two research awards at the University of New Brunswick, he has ensured that future UNB researchers will have more opportunities than ever to pursue excellence.
Dr. Grein, who received federal research funding for an astonishing 48 consecutive years, feels strongly about research and support for research at UNB. After the Allan P. Stuart Award for Excellence in Teaching was established in 1972 (which Dr. Grein himself received in 1989), he thought that a similar award should exist for research. "Teaching and research are both of equal importance to a university like UNB," he said. Having suggested the idea to various administrators over the years, he finally decided to take the project on himself.
Working with the Office of Development and Donor Relations, Dr. Grein generously gave $100,000 in 2017 to establish the UNB Award for Excellence in Research. Dr. Grein considers this award, given annually at Convocation alongside the corresponding teaching award, one of his great achievements. "It makes me very, very happy," he said, "and I hope it shows very openly and publicly that research is parallel to teaching and that both should be pursued."
The UNB Award for Excellence in Research is intended to honour faculty who are representative of outstanding research, scholarly, or creative achievements at the University of New Brunswick. The Award for Excellence in Research promotes and celebrates an environment that supports intellectual inquiry and discovery. This renewed focus on research is in keeping with UNB's new strategic vision, UNB Toward 2030, which commits to double the annual value of UNB's research grants and contracts to $100 million by 2030.
In late 2019, Dr. Grein made another $100,000 donation to his university in support of research. He approached Dean of Science Gary Saunders, who suggested that a gift with the most impact would be in support of young, promising faculty members getting established in their academic careers. Dr. Grein, who himself came to UNB as a young faculty member, fully agreed.
The Fritz Grein Science Research Award provides support for the research activities of promising junior faculty members in the Faculty of Science on the Fredericton campus. Selection is carried out by a committee consisting of a senior researcher from each department in the Faculty.
The inaugural recipient of the Fritz Grein Science Research Award is Dr. Edward Wilson-Ewing, assistant professor in the department of mathematics & statistics. Dr. Wilson-Ewing receives a total of $24,000 in funding over three years to further his research.
Dr. Grein's history with UNB is strong. Arriving in Fredericton from Germany in 1960 with his wife and infant daughter, he made a career and a life at UNB. He liked working at UNB, he said, and just as importantly, both he and his wife loved living in Fredericton and raising their family there.
In 2020, at the age of 90, Dr. Grein still works every day. Until the COVID-19 pandemic, he worked from his office in a wing of Toole Hall that was originally custom-built for him and his team of graduate students. He would work in the mornings, go to the gym at lunchtime and come back to work in the afternoon. These days, because of the largely theoretical nature of his research, Dr. Grein is able to continue making progress on his work from home. "I feel very lucky," he said, "that I have the opportunity to still do useful work."
Dean Gary Saunders praised Dr. Grein's generosity and vision, expressing hope that it will inspire other faculty members to give. "Fritz is amazing for his dedication and stamina, and for his commitment to help young people realize their own aspirations and potential," Dean Saunders said. "It's an exciting development for the faculty to support young researchers in this way."
Dr. Grein's generosity and vision have been complemented by contributions from others in his faculty. Dean Saunders pledged faculty funds to encourage donor contributions and allow for enhanced growth in the endowment during the first ten years of the award. The goal is to provide future recipients even more research support to further accelerate their research careers. Saunders wants faculty, alumni, and friends of the University to know that there is an opportunity for all to contribute — with smaller gifts as well as large ones — to aid in the growth of research at UNB.
Learn more about establishing an award at UNB.