Celebrating GivingTuesday at UNB!
Author: Development and Donor Relations
Posted on Dec 2, 2019
Category: , News and Events , Donor Stories , Alumni Annual Giving , Scholarships and Bursaries , Creating Opportunities for Students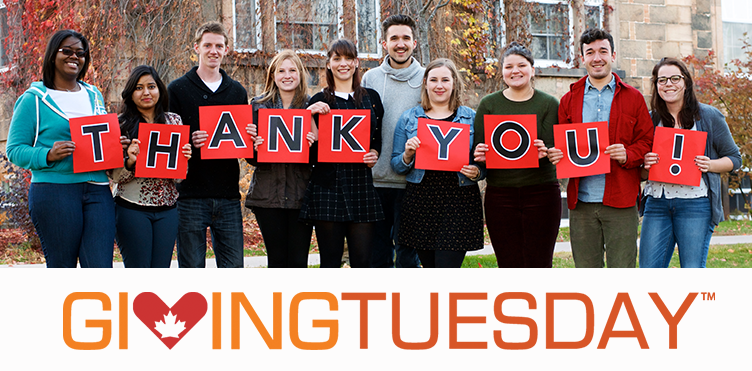 ---
It's GivingTuesday!
On Tuesday, Dec. 3, UNB is joining the 24-hour, worldwide fundraising effort celebrating philanthropy!
Thanks to support from donors like you, our students have more opportunities to succeed with scholarships and bursaries, library resources and more. Be a part of GivingTuesday
We asked alumni why they give and here is what they said:
John:
"My wife and I graduated from UNB in 1986 and 1987 respectively and then began our professional careers to obtain our Chartered Accountant designations with the national firms of Deloitte and KPMG (again, respectively). Once we were in a position to financially "give back" to UNB, we thought it the perfect way to "pay it forward" as UNB not only provided us with our foundation for a lifelong rewarding profession, but it was where we met, fell in love, and to this day look fondly back on as the time when we were searching to find what we were destined for in life." 
Maggie:
"My four years spent at UNB were some of the greatest of my life. It's where I truly grew up and found out who I am and what I'm capable of achieving. Without scholarship and bursary support I would not have been able to afford to stay in school. Now that I'm fortunate enough to work at UNB as a staff member, being able to contribute back to students and support them on their own journey is an incredibly rewarding, full-circle feeling. My UNB education got me to where I am today, and now I'm helping to get someone to their goal." 
Peter:
"I still keep in touch with a few of my classmates and have attended many reunions, watching UNB grow from a small 1,200 student population to a thriving and respected institution. Am glad to help in a modest way to support the University, and enjoy my limited contact with the staff and undergraduates."

Kyle:
"I give because as a proud UNB staff member, I see firsthand how much the generous contributions of alumni can make a difference for a student. Big or small, every single contribution can be a difference maker in those who will be driving us forward into the future." 
Susan:
"I was the first person in my family to attend university. At age 18 I was living on my own, working five nights a week and attending classes full time. It was one of the happiest times of my life. I went on to earn my MA and my PhD and landed a tenure-track job in 1991. Since then I have won a President's University Wide Teaching Award and earned full professorship. The grants, awards and scholarships I received at UNBSJ were immensely important to me. They allowed me to make ends meet, to buy my books, etc. But they also inspired me to do my best in school. I was aware, even then, that hard working people had funded the programs from which I benefited. I was especially grateful for the mix of bursaries (needs based) and scholarships (based on academic achievement). I now give to both types of funds. I am very grateful to my alma mater for the roads it opened for me." 

How it all began
GivingTuesday started in 2012 in the US and has become a global movement that brings together individuals, companies and charities to support the causes that matter to them most, occurring annually on the Tuesday after commercial campaigns such as Black Friday and Cyber Monday. Since 2015, UNB alumni and friends have been participating in GivingTuesday, helping to ensure that our campuses are places where opportunities are created, lives are changed, and students and faculty are known by what they do.