Entrepreneur supported by scholarships
Author: Development and Donor Relations, UNB
Posted on Feb 1, 2019
Category: Scholarships and Bursaries , Creating Opportunities for Students , Innovation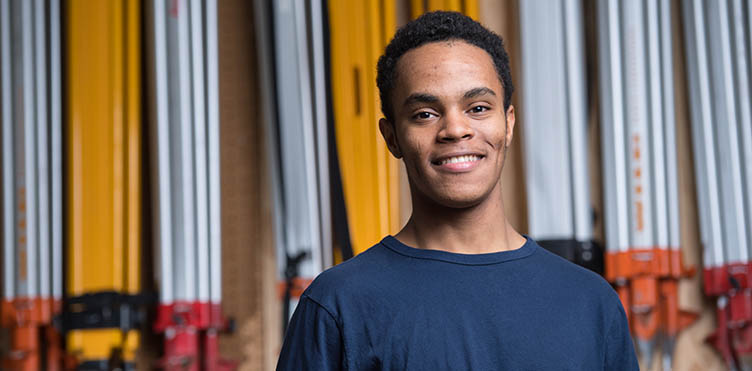 ---
Photo: Chedi Mbaga, 2nd year Bachelor of Engineering in Geodesy and Geomatics Toronto, ON
When Chedi Mbaga learned that he was one of 33 students to receive a prestigious Loran Scholarship out of over 4,400 applicants, the Toronto native had also accepted a challenge to study outside of his home province.
His difficult choice was made easier because of his experience at the University of New Brunswick through the SHAD student enrichment program for high school students. After graduating, he was drawn back to UNB for his studies due to the reputation of its engineering program and the prospect of receiving a Technology Management and Entrepreneurship diploma.
The Loran Scholarship is a national award that recognizes Canadian university students based on character, service and the promise of leadership. For Chedi, those attributes are already on display at UNB, both in the classroom and the community, where he's volunteered with a number of groups.
"I am so grateful for the scholarship support and to those who have supported me and my decision to come to UNB," Chedi says. "It has changed my life."