Richardsons support engineering students, forever
Author: Development and Donor Relations, UNB
Posted on Jan 21, 2019
Category: Bequests , Scholarships and Bursaries , Creating Opportunities for Students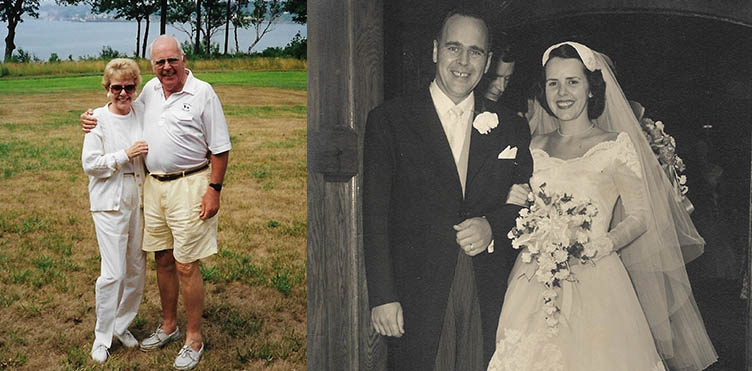 ---
Photos: Jack & Kay Richardson
From his upbringing in Chapman, NB to a successful engineering career that took him throughout North America, John "Jack" Richardson never lost his appreciation or affection for the University of New Brunswick.
After Jack (BScEE '41) graduated, he worked with General Electric in Ontario and it was there that he met and fell in love with his wife, Kay. During their marriage which lasted more than 50 years, they lived in Toronto, Montreal and Troy, Ohio, where Jack served as vice-president and general manager of A.O. Smith's Electric Motor Division in the 1960s.
While they eventually retired to Florida, Jack never forgot his formative years in New Brunswick - from his three-person high school graduation class, to his extensive involvement on the campus, including managerial duties for the UNB men's hockey team to the encouragement from C.C. Jones, former UNB president.
"We spent a lot of time with them and they always had a New Brunswick flag in their home," said Cate McMillan, Jack and Kay's niece who was named after Kay. "Jack always spoke highly of the quality of engineers developed by UNB."
The Richardsons did not have any children but Kay's brother Bill McCormick and his wife Ann and their children Cate, Patsy, Don and Elizabeth were always very close to Jack and Kay.
Jack and Kay were known for their generous spirit and community involvement, values reflected in the UNB scholarships they formed through a $2 million bequest to the university. The Kathryn and John Richardson Memorial Scholarships, each valued at $32,000 over four years, symbolize their desire to assist the continued development of UNB's engineers.
"Attending the University of New Brunswick was a huge part of his life as a young adult," Cate said. "It was important for them to make a contribution."
The Richardsons wanted the scholarships to cover tuition in all four years of an undergraduate degree. The awards are open to students beginning the Bachelor of Science in Engineering program directly upon graduation from high school, and are based on academic achievement, financial need and extracurricular activities. Learn more about making a bequest.