The women of UNB: More firsts for the women of UNB
Author: UNB Alumni
Posted on Oct 3, 2022
Category: Inspiring Stories , UNB Fredericton , UNB Saint John
---
In honour of Women's History Month, we are continuing our series of firsts for women at UNB, to share the stories of more of the incredible women from UNB's history.

These women are important figures in our long and storied history. From the first female president of the Associated Alumni, Rebecca Watson, to the first woman dean on the Saint John campus, Shelley Rinehart, the women featured here are inspirations for all UNBers.

All images and information were gathered from the UNB Archives and Special Collections.


Edith Gordon McLeod (BA'1920)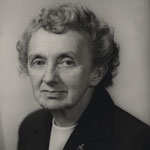 Edith Gordon McLeod (BA'1920) was secretary to Presidents C.C. Jones and Norman A.M. MacKenzie before becoming the first female University Registrar in 1945. She remained in that position until her retirement in 1968, having worked with five different presidents.
One of the university's longest-serving staff members, "Edie" as she was known became counsellor and friend to staff and students throughout her 41 years of service, often remembering students' names during and long after their university careers. Former UNB president Milton Gregg said of McLeod in 1973, "I had the advantage of having that wonderful woman, Edie McLeod as chief of staff whom I made Registrar without delay, and how well she performed that task...I don't think that Edith McLeod's contribution to the work of the university...has yet been adequately recognized."
In tribute to her dedication to UNB, McLeod was awarded an honorary LLD in 1966 and upon her retirement in 1968, she was named Registrar Emerita, the first in the university's history. Another honour was bestowed upon her in 1974 when McLeod House was named for her.

Rebecca Watson (BA'41)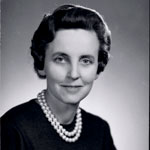 In 1963, UNB alumna Rebecca Watson (BA'41) became the first woman branch manager with the Bank of Montreal in Canada. "Becky's Bank" as it was known, shared a building with the University Bookstore on campus and had the distinction of being managed at that time by one of only three female bankers in Canada.
A long time support of alumni activities, Watson holds the distinction of being the Alumni Association's first female Treasurer (1973-77); its first female Vice-President (1980); and its first female President (1981). At UNB's 32nd Convocation in 1986, which celebrated the centennial anniversary of the admission of the first woman student, Mary Kingsley Tibbits, Watson received an honorary LLD and in 1992, she was the recipient of the Alumni Award of Honour for her outstanding contributions to the Alumni Association.

C. Anne Crocker (BA'66)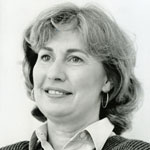 C. Anne Crocker began her career at UNB in 1976 as the first full-time professional librarian in the Law Library and quickly developed UNB's collection of legal materials into a modern and professional academic library, including supervising the design and construction of the 1984 addition to the law library. She was appointed the first vice-chair of the New Brunswick Advisory Council on the Status of Women (1978-1983), and in 1997 the UNB alumna received the country's highest civilian honour, the Order of Canada.Crocker was inducted into the Order for her role in the formation of the Muriel McQueen Fergusson Foundation and the Centre for Family Violence Research, having served as the Foundation's Vice-President, President, and Endowment Campaign Vice-Chair. She is also a lifetime member of the Centre's Board of Directors. Crocker was the founding President of Women in Transition House, Inc., New Brunswick's first shelter for abused women and their children, and has served as a telephone volunteer and trainer for CHIMO (a telephone crisis response centre), as well as President of its Management Committee. She received the Queen's Jubilee Medal in 2003. Crocker retired in 2006, and on October 18, 2007, she was named Librarian Emerita at Convocation.

Carol Ashfield Loughrey (BBA'70)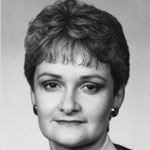 Carol Ashfield Loughrey graduated with a BBA from UNB in 1970. Her career details show her to be a woman of many 'firsts': first tenured woman professor in the Faculty of Administration at UNB, rising to the position of Assistant Dean and Associate Professor in 1986; first woman chartered accountant by examination in New Brunswick; first woman chairperson and CEO of the century-old Canadian Institute for Chartered Accountants (CICA) in 1994. In 1987, Loughrey was seconded from the university by Premier Frank McKenna whose policy it was to promote competent women to senior positions within the civil service. Loughrey became the first woman comptroller of a provincial government; she later served as the first woman Deputy Minister of Education in New Brunswick.
For her services to the Province of New Brunswick and for her advocacy role in establishing local, provincial, and national support groups to assist women living with breast cancer, Carol Loughrey received the Order of Canada in March 2005.

Anne Warner La Forest (LLB'84)
A UNB Law graduate of 1984, Anne Warner La Forest became Dean of Law in 1996, the first and only woman to hold this position in the faculty's 114-year history. She remained Dean until 2004 and is currently on faculty teaching in the areas of property law, international law, comparative law, commercial law, conflict of laws, and feminist jurisprudence. During the 2001-02 academic year she was a Visiting Fellow in the Harvard Law School Human Rights Program and during the 2004-05 academic year, she was the Visiting Scholar-in-Residence at the Department of Justice in Ottawa. La Forest was appointed a member of the New Brunswick Securities Commission in 2004 and is the Lead Member. She has been a member of the Nova Scotia Human Rights Tribunal, a member of the Council of the SSHRC and Chair of its Fellowships Committee, the Board of Governors of the National Judicial Institute and the Patented Medicines Pricing Review Board. La Forest is also a Fellow of the Cambridge Commonwealth Society.

Shelley Rinehart (BA'84, MBA'88)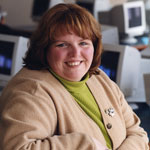 Shelley Rinehart received her undergraduate degree in Psychology from UNB Saint John and in 1988 earned an MBA (Marketing) at UNB Fredericton as a member of the first class to graduate with this degree. She joined the UNB Saint John Faculty of Business in 1988. In 2001 Rinehart was named one of Canada's first IT Heroes by Industry Canada and the Information Technology Association of Canada. Rinehart was appointed director of the Electronic Commerce Centre at UNB Saint John in 2002 and later became the first woman dean on the Saint John campus. After six and a half years as Dean of the Faculty of Business, Rinehart moved into a government position as the Executive Director of Policy Development and Planning with the New Brunswick Department of Energy. Following this secondment, she is once again engaged with teaching at UNB Saint John.

Dr. Doris Ryan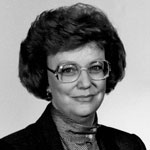 Dr. Doris Ryan began her term as Vice-President at UNB Saint John on 1 January 1988, the first woman to be appointed to the position and at that time, one of only a few female university VPs in Canada. Previous to her appointment in Saint John, she was the Assistant Director of Field Services and Research at the Ontario Insititute for Studies in Education (OISE) in Toronto. An American by birth, Ryan studied at Oklahoma State University (BSc 1956), State University of NY at Buffalo (MEd 1965) and at the University of Chicago (PhD 1969).
Dr. Ryan retired from UNB in 1994 after a six year tenure characterized by much progress: the development of new programs, the securing of additional funding, overseeing the construction of Philip W. Oland Hall and the Sir James Dunn Residence to facilitate an ever-increasing enrolment, and forging stronger links to the Saint John community.

Jane Arnold (BA'88)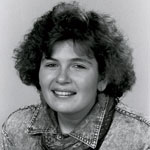 Jane Arnold's involvement in student affairs began in 1987 when she was elected the first female President of the Student Union in a landslide victory. At the time she stated, "Other people took more note of me being the first woman than I did...Of course I am excited. I am the first but it had to be in its proper perspective. People vote for me and the underlying issue is what I ran on: a fresh start."
In the spring of 1988, Arnold went on to record another 'first': she was elected the first New Brunswick student member of the Maritime Provinces Higher Education Commission (MPHEC). She graduated with a Bachelor of Arts degree that same year.

Dr. Elizabeth Parr-Johnston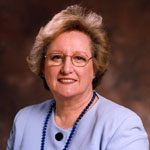 One hundred and ten years after the first woman enrolled as a student, UNB appointed its first and only woman president and vice-chancellor in July 1996, Dr. Elizabeth Parr-Johnston. An economist educated at Wellesley College and Yale University, Dr. Parr-Johnston served as President of Mount Saint Vincent University in Halifax prior to joining UNB. She also held a number of academic appointments, served in senior federal government positions, and performed executive roles in the private sector.
Throughout Parr-Johnston's five-year term, "during a very difficult period in UNB's history", much was accomplished including the momentum of the Renewal Process, the establishment of several new chairs and centres (e.g the University Women's Centre, located in the Student Union Building), the creation of Renaissance College, the construction of new buildings on both campuses, the attraction of the National Research Council E-Commerce Centre, the doubling of scholarship funds, the appointment of many highly qualified vice-presidents and deans, the re-organization of academic administration to strengthen key areas, and a greatly improved financial planning and control structure. She stepped down as the institutions's sixteenth President on 30 June 2002. In September 2011, the newest residence at UNB Fredericton was named in her honour as the Elizabeth Parr-Johnston Residence.

 
Read our 2021 Women's History Month story.