Offensive power and flawless shooting Robertson signs with Seawolves
Author: S. Anctil
Posted on Aug 11, 2022
Category: Varsity Sports , ACAA , Basketball
Ewan Robertson has officially signed with the Seawolves Men's Basketball Program.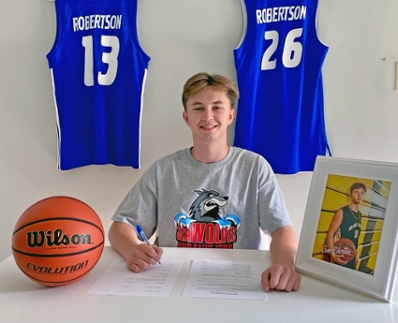 Ewan is from Fredericton, New Brunswick and graduated from Fredericton High School. Ewan's passion and dedication for basketball lead him to many great achievements. He received Camp All Star at the Adidas Top 40 Camp, MVP for Fredericton High School in 2022, Team New Brunswick for U15 where he was able to take part in Nationals in his hometown of Fredericton, Team New Brunswick U18 and will be competing at Canada Games in August. He also received a 2022 NBIAA All Star Award for AAA Southwest Boys. Ewan has been playing basketball since he was only 6 years old, he loves the challenge of getting better every time he steps on the court.
"When I'm on the floor I'm always happy and that is why I am so passionate about it!"
Ewan is enrolled in the Bachelor of Health program with hopes to follow the route of health, recreation and management. Ewan choose UNB Saint John as he felt welcomed by the Head Coach and felt an instant connection with the team. He knew UNB Saint John was the right place to elevate his game and reach his goals for the season: to work hard and give 100% at every practice and game.
"I love learning from more experienced players and pushing myself to improve on and off the floor."
Head Coach, Peter Vincent had the opportunity to see the best ranked teams in the province during the high school season, which is where he got a glimpse of Ewan's skill and athleticism. Ewan played for historically one of the best basketball programs in New Brunswick. He played a very prominent role on his team and seemed highly committed and dedicated to their success as well as his own.
Coach Vincent's initial observation of Ewan was that he was a great shooter for the FHS offense, but he proved to be more than that. He also witnessed the huge amount of potential that Ewan possesses like his ability to score, his versatility, and the leadership he brings to the court.
He is looking to Ewan to bring offensive power with his flawless shooting. He also wants Ewan to contribute on both sides of the ball and bring strong defense and become a smart contributor.
"Coming from a strong program we will expect big things from him. Ewan also has the awesome opportunity of representing our province at this year's Canada Summer Games so he will be competing at the highest level this summer. His Experiences should only make him better and a more complete asset to our program."
Welcome to the Seawolves Family Ewan!