Reds Club MVP signs with Seawolves
Author: S. Anctil
Posted on Jul 6, 2022
Category: Volleyball , Varsity Sports , ACAA
Emily Robichaud has officially signed with the Seawolves Women's Volleyball Program.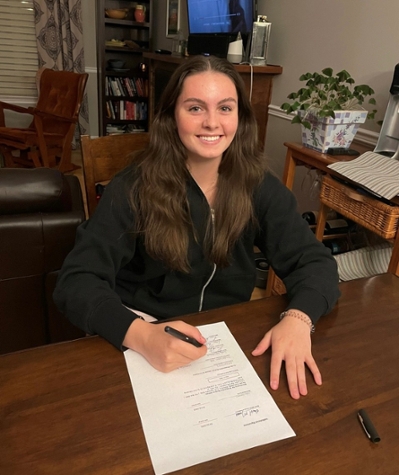 Emily is from Hanwell, New Brunswick and is a graduate of Fredericton High School which is known to have a great volleyball program. Sports have played a huge role in Emily's life as she's always been a multisport athlete. It wasn't until two years ago that she decided that her passion and dedication for volleyball outgrew other sports and decided to specialize in volleyball. Emily's volleyball resume is rather impressive, she was the MVP for U18 Reds at Provincial's (2021), Coaches Choice U18 Red (2021), MVP U17 Reds (2020), MVP U16 Reds (2019), MVP Fredericton High School Volleyball (2019) and Best Defensive Player Fredericton High School Volleyball (2018).  Her talents aren't limited to the volleyball court, Emily has received outstanding achievements in Social Studies, Chemistry, Biology, English and Math, she also is an honors graduate.
Volleyball has played a crucial part in Emily's life from a young age, and she always knew she wanted to play at the university level. It is no surprise that Emily has done well with the sport since it runs in the family, her mom has played volleyball for as long as she can remember, in university and at the senior level.
 " I am passionate about volleyball because I use it as an escape and to help deal with my emotions."
    Emily will begin her Bachelor of Science in Engineering in the fall. Her choice to come to UNB Saint John was an easy one as she has family in Saint John. She also has an old teammate that currently plays for the Women's Seawolves volleyball team and has only heard good things about the program.
    Coach Colin Chambers discovered Emily at the U18 Provincials, she led her team to a first-place finish and won tournament MVP which really caught his eye. Emily is a well-rounded Left Side hitter.  Her competitive edge isn't the only thing that sets her apart, she possesses strong passing, quick and efficient defensive skills. To go along with her great defensive skills, she is a powerful and controlled offensive player. She has great court vision, can read hitters well and never seems to be out of position or gets caught on her heels.
    Coach Chambers' states that Emily's intensity and attention to detail on the court will help uphold the standard of effort we expect to see from the team.
 "I am confident that she will be a difference-maker --not only for the Seawolves, but in the ACAA-- possibly as soon as this season. Her experience performing in big games will be an asset as our relatively inexperienced group looks to become a contender in the ACAA."
Welcome to the Seawolves Family Emily!