Reigniting passion for the game. Hammer signs with Seawolves Basketball
Author: S. Anctil
Posted on Jun 28, 2022
Category: Varsity Sports , Basketball , ACAA
Max Hammer has officially signed with the Seawolves Basketball program.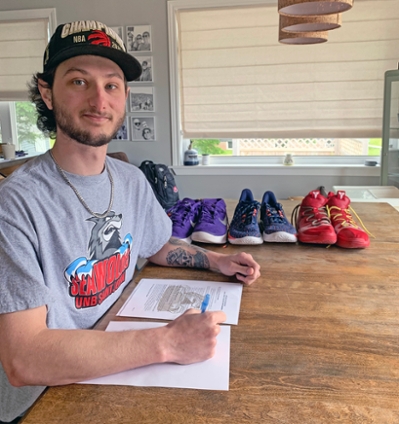 Max is from Summerside, Prince Edward Island and graduated from Three Oaks High School. His competitiveness and passion for basketball led him to several great achievements. Max played three years as a guard for Three Oaks High where he was captain in his final year and was top scorer on his team in grade 11 and 12. He was a member of the PEI Provincial team for U15 and U17 playing in Nationals in both Alberta and Sherbrooke. After graduating high school Max attended Holland College and graduated with a certificate in welding. In the last two years the passion that Max has for basketball brought him back to the game. He helped coach a AAA men's high school team and he was able to see and appreciate the game from a different perspective which helped improve his own abilities. Since his return to the game Max has dedicated himself to be better and have a mamba mentality which comes from his biggest role model Kobe Bryant. Max has been putting in the work by hitting the court 4 to 5 times a week and playing in competitive men's leagues and tournaments island wide.
"Basketball has been part of my life since before I could walk, following in my fathers' footsteps who was a guard at SMU."
     Max mentions that basketball has taught him the importance of hard work, perseverance and being able to work as a team. He loves the social aspect of basketball as it brings you closer to people and allows you to make long lasting friendships. Max feels his happiest when he is in the gym shooting a ball or playing a game, which shows that he is truly dedicated to the game of basketball.
    Once Max begins his post-secondary education, he will be studying Bachelor of Arts and majoring in Sociology, his goal after university is to work with youth. When attending high school, he would volunteer his time working in the community and really enjoyed it as he found purpose. Coaching high school basketball last year reignited his passion of working with the youth, which convinced him that one day he would like to make a career out of it. His choice of school was impacted by his time spent with the Seawolves program.
"When I visited for the tryout, I was lucky enough to get to play with some of the team. I really liked coach Vincent's approach. I felt I could come in and help win games."
    Max decided that he wanted to further his studies and have another chance at playing the sport he has always been passionate about. Reaching out to explore UNB Saint John connected him to Head Coach Peter Vincent. Coach Vincent was not familiar with Max as he took a few years off, so he invited Max to get a glimpse of his skills and ability. It didn't take long for Coach Vincent to realize that Max has a great competitive edge and has the skills to be highly effective in this league. Coach Vincent notes that Max is a six-foot one guard; a good defensive player, tough, a good rebounder, passer, leader and can shoot the three ball very well.
"Max should also be a player that can provide some leadership for the younger players as well. I'm very pleased to have Max joining us, I'm sure he will prove to be a tremendous asset to our program."
Welcome to the Seawolves family Max!