BC Provincial Champ signs with Seawolves Soccer
Author: S. Guimond
Posted on Jun 9, 2022
Category: ACAA , Soccer , Varsity Sports
Aidan Walt has officially signed with the Seawolves soccer program for the 2022-23 varsity season.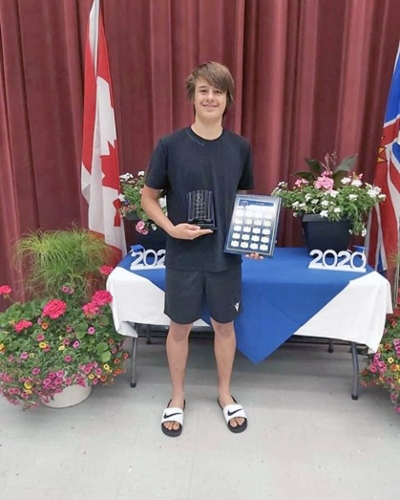 Coming to UNB Saint John from Victoria, BC, Aidan has plenty of titles and good grades to prepare him for his next chapter as a student athlete. His achievements include first place at provincials with Reynolds Secondary, first place at Islands, Junior sportsmanship award, U18 championship with Gorge FC and to top it off he's been an honor roll student for 4 years. He began playing soccer at the young age of seven and it has been a massive part of his life ever since. Aidan's passion for soccer runs deep and a large influence has been his family, friends, and coaches. As for a professional athlete influence, Thiago Silva of Chelsea Football Club has long been on Aidan's radar, watching and studying him since being with the club.
"Soccer means a lot to me and carries a lot of the best moments of my life."
As an incoming member of the Seawolves squad, Aidan wants to help the team challenge for the title, to win the league and playoffs. He wants to push himself as an athlete, while taking pointers from his new coach and teammates to reach optimal performance.
Aidan chose UNB Saint John because he wanted to move away from home for his post-secondary education. He will be enrolling in the Bachelor of Psychology program with aspirations of getting his PhD and becoming a research psychologist or a sports psychologist.
Head coach of the Seawolves, PJ Ward, discovered Aidan through a partnership with UNB (Fredericton campus). Coach Ward feels that Aidan will bring more stability to the team's defense while pushing everyone to be better as a defensive unit. Aidan will bring his knowledge and outlook on the game to the team and has the potential to be a strong center back in the league. Aidan is always scanning the game and understanding where the dangers are and how to find a solution to the problem, this ability will be a great benefit to the team.
"He is a strong and aggressive center back with good and consistent passing abilities. He is very vocal with his teammates, constantly providing them with information to make better decisions during the game."
Welcome to the Seawolves Family Aidan!