West to East - Fraser - Monroe Commits to Seawolves Volleyball
Author: S. Guimond
Posted on May 20, 2022
Category: Volleyball , ACAA , Varsity Sports
Jonathan Fraser - Monroe has officially signed with the Seawolves men's volleyball team for the 2022-23 varsity season.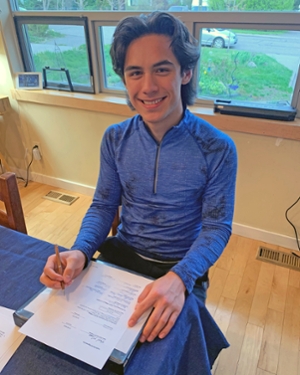 Originally from Vernon, BC, Jonathan will be graduating from W.L. Seaton Secondary school. Jonathan is a multi-sport athlete (volleyball, soccer, basketball) who received the BC Premier's Award for Excellence in Indigenous Sport. He was the recipient of this award due to his athletic achievements and coaching roles in multiple sports. Some of his athletic accomplishments include Vernon boys' soccer provincial championship title, defensive player of the year in the BC Junior All-Native Tournament with Syilx Nation, captain of his high school volleyball team and club team. He led his club team to qualify to compete in Division one at the National Championships this month. Academically, Jonathan has been on the Principal's List throughout his high school career and will graduate with the B.C. Certification of Graduation, "Dogwood Diploma," with both French and English diplomas.

Jonathan has favorited volleyball since he began his club participation in grade nine. He loves to be in high pressure moments and lives for the adrenaline rush that comes with team success. His goals for the season are to grow as an athlete under Coach Karatzios' leadership and hopes to step into any role that will best help his team. Over the years, Jonathan has learned to appreciate and take lessons from many leaders throughout his life, spanning over several disciplines from dance to sport and beyond.
"My passion for volleyball comes from team chemistry and fighting tooth and nail with those around me to achieve a common goal."
Once he arrives in the fall, Jonathan will be taking the Engineering program and aspires to work on more sustainable uses of current materials. He fell in love with the Maritimes after a visit to his brother who dances for Atlantic Ballet. His choice of UNB Saint John is due to the opportunity to live, work and play on a smaller campus with a tight knit community.

Head Coach of the Seawolves, Dino Karatzios had Jonathan reach out to him during the winter months. Jonathan had sent a link to his profile page on NCSA (Next College Student Athlete), a recruiting network based in Chicago, Illinois. As a coach, he looks for athletes with the type of mindset that understands the importance of challenging yourself towards success.
"When I examined his video clips, the first thing that came to mind is grit. Jonathan is a great defensive player with a competitive attitude. Known as a solid passer, that's his forte. What is even more impressive is his vertical jump."
Jonathan has natural libero instincts but has the ability to play power if the opportunity comes up. Coach Karatzios feels Jonathan will be a great addition with his defensive grit and he looks forward to having him on the team.
"I wouldn't be surprised if he becomes our spark this year."
Welcome to the Seawolves Family Jonathan!