Albertan making her way back to the East Coast
Author: S. Guimond
Posted on May 31, 2022
Category: Varsity Sports , Volleyball , ACAA
Paige Hobeyn has officially committed to the Seawolves volleyball team for the 2022-23 varsity season.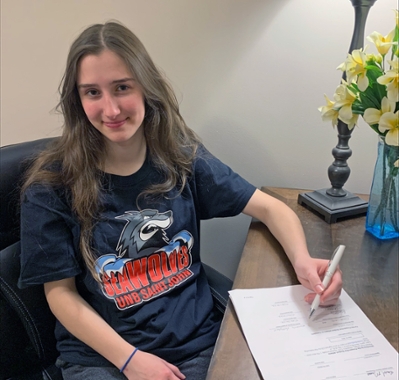 Originally from Halifax, Nova Scotia, Paige moved at a young age to Alberta but is now making her way back to the east coast to continue her volleyball career. She will be graduating from Chestermere high school and then packing her bags in the fall for the trek across the country. Paige has favorited volleyball from a young age, she loves how it brings people together and how it has helped her grow as a leader. She puts her all into the game and finds it to be a fantastic outlet, always improving her athleticism and overall wellness. Paige looks forward to experiencing more of the Atlantic region during her time here and feels it will be a great opportunity to become more independent and meet new people. Her goals have always been to enjoy the sport, make lasting friendships and strive towards improvement, she intends to keep these goals as she moves into the role of an ACAA competitor.
"The coaches and staff provided me with a warm and welcoming introduction to UNB Saint John and convinced me right away that it was a great choice for me!"
Paige has a wonderful support system and will continue to have that as she begins her journey as a UNB Saint John student athlete. She has her entire family to thank for doing what is necessary to achieve her goals, their support has always pushed her to put in extra effort and continues to look up to each and every family member.
Paige will be taking a Bachelor of Science but is currently undecided on a specific career path but is extremely interested in the medical field.
Head Coach of the Seawolves, Colin Chambers, was contacted by Paige's club volleyball coach to inquire about opportunities for some of her graduating athletes. Paige then reached out to him by email to learn more about the Seawolves program and provided him with some game footage.
"Paige displays quickness on defense and a patient, stable platform on serve receive. Her strong fundamental skills and desire to improve will help with a smooth transition into the college game."
Paige will help replace some of the serve receive depth that the team lost after last season. He is confident that she will be loud and excitable on the court in a way that will be contagious. Her skill with reading hitters, dedication to being in the right spot, and relentless pursuit of the ball will frustrate opponents and inspire teammates.
Welcome to the Seawolves Family Paige!