A family affair - Gaudet sisters commit to Seawolves Soccer program
Author: S. Guimond
Posted on May 17, 2022
Category: ACAA , Varsity Sports , Soccer
Hope and Trinity Gaudet have officially signed with the Seawolves Soccer team for the 2022-23 varsity season.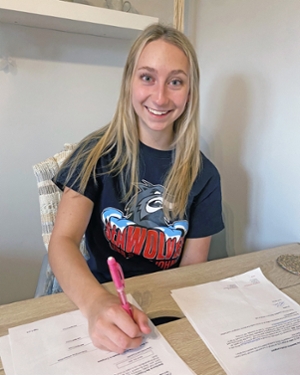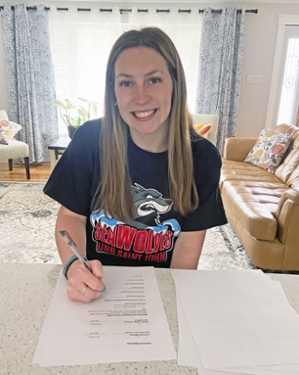 The Gaudet sisters are from Quispamsis, New Brunswick and will be graduating from Kennebecasis Valley high school in June of 2022. Trinity and Hope are not only outstanding athletes but have performed exceptionally in their academics, both as honors students and have above a 90% average.
Hope and Trinity's athletic achievements include a silver medal at Atlantics with Team NB in 2017, attending 2018 Nationals in Laval with Fundy Soccer, Gold medal at the 2018 Coastal Summer Challenge in Augusta, Maine with Team NB, and a silver medal at the AAA Provincials in 2021. Hope received the MVP award for Soccer at KVHS in 2020-21 and was UNB's top applicant invite for 2022.
They began playing soccer at a young age with encouragement from their mother, who is their biggest role model. Her strength, kind heartedness and guidance has taught the girls to work hard and always look on the bright side.
"Her personality lights up the room." – Trinity
"She always puts others first." – Hope
Trinity cherishes the friendships she has made through playing soccer and has taught her lessons she will keep with her. Her passion for the game comes naturally and her competitive side shines when she is on the turf. For Hope, soccer has been her happy place, when she plays her worries fade away and loves the competition and intensity. The girls are really looking forward to hitting the turf for the upcoming season, each with their own goals. Trinity is excited to improve her technical and physical ability with the help of teammates and coaches. Hope looks forward to getting to know her new teammates, learn everything she can and help bring home a championship title.
The Gaudet sisters chose UNB Saint john due to the small class sizes and how it gives students the ability to connect with professors. Hope has met some UNB alumni and was instantly pleased with what she had heard about the campus. Trinity will be taking Bachelor of Arts and then on to the Bachelor of Education. Hope will be taking Bachelor of Nursing where she can make a positive impact in the community. These career choices will certainly fulfill their goals of helping others.
Head Coach PJ Ward discovered the sisters through the Fundy Soccer program which offers competitive development and performance programs for soccer athletes in the area. Coach Ward was impressed with Trinity's defensive abilities, grittiness and never back down attitude. He recognized that Hope's ability to control the midfield and consistent passing at all ranges will be an asset to the team.
"Trinity will be helping with our defensive shape and composure. She will be bringing some calmness to the backline using her voice to control our defensive structure as a unit."
"Hope will be able to unlock certain passing channels by using her ability to see the field quickly. She will bring intensity in the midfield."
Welcome to the Seawolves Family Hope and Trinity!