MVP from Hantsport NS commits to Seawolves Basketball
Author: S. Guimond
Posted on Apr 28, 2022
Category: Basketball , Varsity Sports , ACAA
Brynna MacKenzie has officially signed with the Seawolves Basketball program for the 2022-23 Varsity season.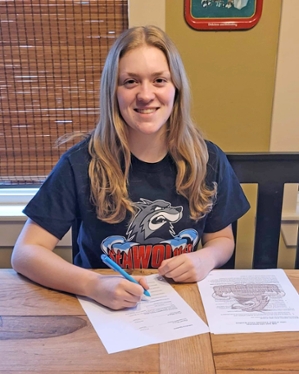 Brynna is a graduate from Horton High school, has held honors with distinction (2018-22), and was awarded Rookie of the Year (2018-19) and Basketball MVP (2019-20). She is a diligent athlete and is always looking to enhance her talents in a community that she feels a deep connection with. Basketball has given Brynna the opportunity to form lasting relationships and has taught her skills that apply to everyday life.
"This sport allows me to fulfill my passion to compete at a high level with others that have the same love of the game."
As a first-year student, Brynna plans to take in as much as possible to learn from her new teammates. Her goals are to challenge herself from the beginning of the season until the end to add to the growth of the team. She plans to continue to develop her skills to contribute to the success of the team.
The Nova Scotian found the UNB Saint John campus was the perfect fit for her due to the small class sizes and hometown feel. She grew up in a small town and has a love for making connections and relationships which she will have no issue doing in Saint John. She looks forward to having that same feeling a new city once she arrives in the fall. Brynna will be studying a Bachelor of Science in Computer Science and intends to go into cyber security or work for the government.
Brynna's coach for the last five years, Fred Cumby, has been a major influence in her athletic career. She notes that calling him coach would be an understatement because he is so much more than that. She has seen traits in Fred that separates him from other coaches, the amount of support she has received from him in how she represents herself as a student athlete has been immense. Not only did he teach here everything she knows about basketball but also gave her life lessons that helped build her character. Looking back to the past 5 years, although she didn't know it at the time, he was helping her strengthen her foundation as an athlete. He pushed her to make her better, instilled solid work ethic and determination by encouraging her to never give up. Every lesson Fred taught her gave her the tools to create the best version of herself. Words will never be enough to express how thankful she is for what Fred has done for her.
"Athletes will play for multiple coaches throughout their career but only the luckiest of players will get the chance to have someone like Fred in their life."
Head Coach of the Seawolves, Kevin Munroe was in contact was in contact with Fred who enthusiastically supported Brynna and boasted her character. Coach Munroe knew he had to reach out to her as her player profile would be a perfect fit for the team. Brynna's maturity, drive and focus are key elements in adding to the team culture. Coach Munroe easily recognizes athletes who are up for a challenge, have direction and are well aware of what it takes to reach their goals, Brynna is one of those athletes.
"She brings a strong skill set and has been coached well. Brynna is aggressive and gritty. She is not afraid to put in the work."
Welcome to the Seawolves Family Brynna!