Macaulay ready to make an impact on the Seawolves men's soccer program
Author: Scott Mehan
Posted on Mar 10, 2022
Category: Varsity Sports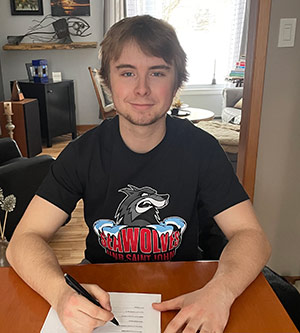 Ben Macaulay will join the Seawolves soccer program from the Fundy Soccer Association High Performance Academy.
"Ben will bring the knowledge and intensity from Fundy Soccer to our program," says head coach PJ Ward.
Macaulay, originally from the town of Hampton, New Brunswick will be bringing four years of varsity experience at the high school level.
"I've been a member of Fundy Soccer and coached by two amazing coaches, Jason Brown, and Dave Vincent," says Macaulay. "I also played on team New Brunswick for two years and won two Atlantic championships."
Ben looks forward to having a strong rookie season with a goal to help the team return to playoffs for a second straight year.
"UNB Saint John (UNBSJ) has a great atmosphere with amazing courses. I am very excited to be continuing my academic and athletic career close to home."
The Seawolves are excited to have homegrown talent join the program as they look to capture the title of ACAA champion this coming season.
 "He will bring increased sustainability to our defensive shape and abilities as team. His voice in the backline combined with his aggression and eagerness to learn will help him grow into a solid defender and learn from the players already on the team," says coach Ward.
When talking about role models Ben's biggest role model and fan in the stands is his mother.
"My biggest role model must be my mom. She has always motivated me to become a better person on and off the field."
Making the jump to post-secondary education
The team looks forward to Ben's first year with the varsity program as he embarks on his post-secondary journey as a student athlete.
"I will be enrolled in the Bachelor of Science program," says Macaulay. "My goal is to become an architect and own my own firm."
We're excited to welcome Macaulay to the Seawolves Family.