St. John's to Saint John, Tucker Signs with Seawolves
Author: S. Guimond
Posted on Feb 9, 2022
Category: Volleyball , Varsity Sports , ACAA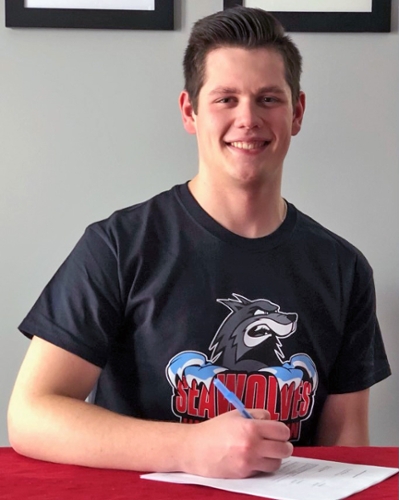 ---
Ethan Tucker has officially signed with the Seawolves Men's volleyball program for the 2022-23 varsity season.
Ethan will be a graduate of O'Donel High School located in Mount Pearl and will travel from Newfoundland to New Brunswick for his next academic and athletic endeavor. He has been playing volleyball for six years and has been a leader on both his high school and club teams since grade ten. For the last 5 years he has been a member of the Newfoundland Provincial volleyball program and is currently part of the 2022 Canada Games training pool. As a multi-sport athlete, Ethan decided to shift his focus away from hockey and concentrate on volleyball, his love for the sport resulted in pursuing a career beyond his high school years. He has many accolades as an athlete at the club level and school level, but it is worth mentioning he has maintained 1st class honors each year and will graduate with this academic achievement. 
"Volleyball has given me the chance to meet amazing people and provided me the opportunity to travel across the country to compete at various tournaments such as Volleyball Canada Nationals and Eastern Elite Championships."
Ethan's passion for volleyball extends beyond just playing the game, he enjoys being involved in any capacity, from player, to student - coach to a level 2 certified official. Ethan's parents have been a major inspiration on his growth, encouraging him to put his best foot forward in anything he does. Their support has shaped him into the hard-working student athlete he has become, ready to dive headfirst into a new chapter at UNB Saint John. Ethan is extremely thankful to his coaches as well, Richard Christopher and Jesenta Lily. They have been his coaches for six years and the amount of influence on his development as a player and a person will help him move into his next level of competition. Ethan is very thankful to them for giving him the tools to push himself on the court and in the classroom.
His goals for the 2022-23 season are to grow as a leader, make an impact on the court for the Seawolves and work with the team to make its way to an ACAA Championship title.
Once Ethan arrives at UNB Saint John he will be taking the Bachelor of Science program and hopes to move into Pharmacy when he completes his undergraduate degree. UNB Saint John has always been an option for him as it allows him to play at a competitive level while taking his desired academic program. He is looking forward to the benefits of attending a smaller campus community.
Head Coach of the Seawolves, Dino Karatzios, received an email from Ethan just before Christmas and their exchanges touched on many of the key traits that fit the Seawolves team culture. Coach Karatzios was impressed with Ethan for a number of reasons, his natural ability to lead, his understanding of the game and the role to perform as a middle blocker.
"His team has won gold medals and he was their leader. Being a winner is one thing but leading a team to win consistently shows confidence and strong character. It is rare to find a middle that understands the true nature of the position, especially at his age. He shows maturity when it comes to this position".
Ethan is a strong and solid middle, all around. He can read plays well which makes him a great blocker. He knows how to play offensively by going into the gaps. Coach Karatzios expects Ethan will be a big part of the team, who has the potential to be one of the league's best.
Welcome to the Seawolves Family Ethan!