Hounds Honors student joins Seawolves Volleyball
Author: S. Guimond
Posted on Feb 1, 2022
Category: ACAA , Volleyball , Varsity Sports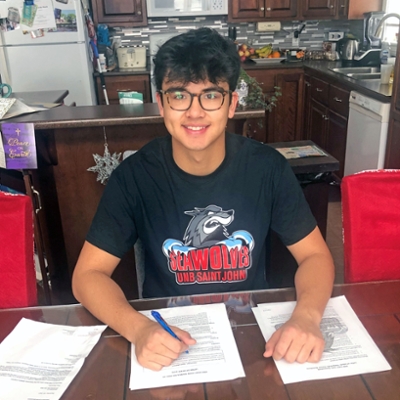 ---
Alex Lui has officially signed with the Seawolves men's volleyball squad.
The soon to be Saint John High School graduate will make his next academic move to UNB Saint John. So far, his volleyball career has awarded him Hounds Rookie of the Year and captain in his freshmen year, captain, and MVP in grade 11, MVP and captain for the U16 Timberwolves and captain again for the U18 Timberwolves. Alex has other talents aside from volleyball, he was Rookie of the Year for the Hounds soccer team in grade 11 and had his first and second degree blackbelt in Taekwondo by the age of 13. He has held a 95 plus average all four years of high school, making him a Hounds Honors student.
Born and raised in Saint John, Alex began playing volleyball in grade seven. After winning regionals and receiving MVP in grade eight he decided to take the sport very seriously. His experience as a volleyball player has taught him a lot about dedication, hard work and being part of a team.
"There's no better feeling that getting a big play on the court with your team. Volleyball has introduced me to so many amazing people and I am looking forward to meeting many more. Playing, watching, scorekeeping, coaching, I love anything volleyball!"
Alex holds the volleyball community in high regard, and he couldn't be happier to continue his athletic career with the Seawolves. He is looking forward to becoming a stronger athlete and developing his volleyball skills as much as possible.
Attending UNB Saint John will keep him close to family, which is of extreme importance, and he is grateful to continue his academics and athletics while staying close to home. His parents have made a huge impact on him over the years by instilling qualities such as commitment and a solid work ethic in him.  His Timberwolves coaches have also been major role models to him over the last three years, they have helped him improve his skills and passed on their passion for the sport to Alex. He is forever grateful for the wonderful influences in his life.
Alex will be taking the Bachelor of Health program and aspires to work in the field of medicine.
Head Coach of the Seawolves, Dino Karatzios, has seen Alex play a number of times as part of the Wolfpack and Timberwolves family and he had the opportunity to coach him during a summer training camp.
Coach Karatzios knows how eager Alex is to learn everything he possibly can and how willing he is to work hard and develop his athleticism. Alex is extremely passionate about volleyball; he is one of those athletes that could play 365 days a year if he could. With every year he plays, his dedication to the sport becomes greater and he is a leader on and off the court.
"We needed another setter on our team and Alex was the perfect fit. He has good hands and is capable of playing more than one position. He has tons of potential with his spin serve and that is something we are looking forward to developing."
Alex has a great personality and is very well respected by his teammates; he meets all the criteria for the Seawolves team culture.
Welcome to the Seawolves Family Alex!