Braya Robertson Signs to Women's Soccer Team for 2022-23 Season
Author: Scott Mehan
Posted on Feb 25, 2022
Category: ACAA , Soccer , Varsity Sports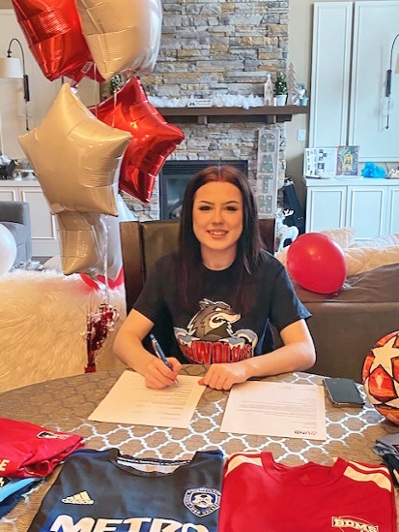 ---
For Maple Ridge, BC native Braya Roberston soccer is more than just a game, it's a passion.
"I have been playing the game since I was four years old following in the footsteps of my mother and grandfather as they both played high-level soccer", says Robertson. "The game has been my life these past fourteen years and through that, I have learned so many valuable lessons, created lifelong bonds, and found who I am."
Robertson knew soccer needed to be part of her post-secondary journey, and in selecting exactly where she would study, a number of things stood out to her about UNB Saint John (UNBSJ) including the teams culture and coaching.
"There are multiple reasons why I chose UNBSJ. The incredible science department and the amazing opportunities it provides as well as the [soccer] team culture and the coaching I would experience as a student-athlete."
Robertson has set a few goals for herself this coming season, including getting a goal or assist per game and hopeful of becoming a starting player by the end of the season.
That passion and drive is exactly what head coach, PJ Ward is looking for in an athlete.
"We're excited to welcome Braya to the team", says Ward. "She will bring a lot to the program and increase our quality as a team. She is someone who I believe will create goal scoring opportunities for our strikers."
Ward believes that Robertson's talent will lend well to the team and will help strengthen the program as they look ahead to 2022-23.
"Braya has an impressive understanding of the game at a young age already. As a player who loves to take players one on one, we will be looking to exploit her pace and one on one abilities."
Academics, Extra-Curriculars a Draw for Robertson
In addition to the soccer program, Robertson was drawn to UNBSJ because of her program and extra-curricular opportunities.
"I am excited to take the Bachelors of Science program at UNBSJ. I have always loved science. I believe that science in a sense is a way of thinking; always questioning what you are being told," says Robertson.
"My career aspirations are to transition into the field of either astronomy or biotechnology."
On the extra-curricular side, Robertson is excited about opportunities to work with youth in sport.
"The opportunity to coach locally was also a huge contributing factor as it is a passion of mine to help kids develop their skills and abilities in soccer. I would love to further my experience in coaching youth soccer as I have been for the past year and a half."
The Seawolves are proud to welcome Robertson to the family!